Copywriting Clients Out of Mid-Air: How to Skip the Frustration and Start Getting More Gigs NOW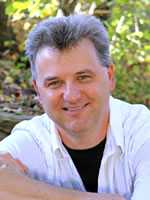 Jay White
It was Monday, January 30, 2006. And I had just woken up to my first official day as a freelance copywriter.
Gone was the cushy in-house gig writing for catalogs … gone was the clockwork weekly paycheck … gone was the health insurance, retirement, and perks.
Now I was really on my own. And I had no clue WHATSOEVER where to start!
That's the honest truth. My first day of freelancing was spent walking around my house, with my hands on my head, thinking, "Am I crazy? What did I just DO?"
Even though I had spent the past 10 years as an in-house copywriter, this whole freelancing thing was a little like standing on a cliff, peering over the edge at a mysterious new adventure.
And like many of you, I was more than a little skittish to close my eyes and jump.
Now, the SECOND day was a completely different story …
I remember sitting at my desk, with the fresh smell of brand-new office supplies in the air, and thinking, "Nobody knows who I am in this business. How am I going to get a copywriting gig?"
And that's when it hit me … an idea that sounded a little crazy, but just might work.
I quickly began piecing together my rudimentary marketing strategy. And at 9:00 a.m. on that Tuesday morning, I "launched" it.
So, what happened? By noon, I had three potential copywriting clients contacting me about possible work …
… and by the end of that week, I had secured a freelance copywriting job for a total of $6,000.
You read that correctly. One day, I was wandering around, without a clue. The next, I had a spark of a goofy idea. And three days later, six grand in my pocket.
So, how did I do it? Easy — instead of sitting around and waiting for the potential clients to come knocking at my door, I got proactive and went to THEM.
And not just any potential clients either, but specifically chosen targets that would be most likely to hire me based on one simple question I asked myself.
We'll get to that in a moment, but first let me tell you more about proactive marketing and why it's the absolute best way to get a client talking to you quickly …
Imagine the Internet as a bunch of city streets, and your office is on Copywriting Street. Each side is lined with the storefronts of thousands of copywriters.
Walking along those streets are hundreds of potential copywriting clients, peering into windows and trying to decide which store to go into.
This is what's happening right now on the Web. Clients of all shapes and sizes trying to sort through the gigantic stack of "hire me" websites and find a decent copywriter who can improve their sales and grow their business.
And unfortunately, yours is most likely buried at the bottom.
However, when you choose to market yourself proactively, YOU take control of the situation instead of letting others …
You don't wait for them to come to you — you go out and FIND them yourself, typically by sending a simple email to pique their interest.
So who do you send these emails to? Well, that's where the REAL magic happens …
Instead of blanketing the corporate world with your hire-me message, carefully choose your client targets by asking yourself the following question:
What Do I Have More Experience In, More Knowledge About, or More Passion for Than Most Other Copywriters?
Think about your past and all it entails. What do you know more about than other people? Might be a job you spent many years at, or a hobby you've been passionate about for a long time.
THESE are the niches you need to be reaching out to. These are the people who are going to hire you based on what you already KNOW, not necessarily what you've learned about copywriting in a book or a course.
Look, here's the deal … copywriting clients don't want somebody they have to train in their products, their market, their audience, their lingo, etc.
They just want somebody to walk in who already knows all this stuff so they can hand them a big pile of projects and a stack of cash and get them off their plate.
And when you leverage what you already know and match up your knowledge and experience with the prospects who would most likely need it, then getting clients gets a LOT easier a LOT faster!
That's how I secured that $6,000 gig in the first week. I thought to myself, "Who would be most likely to hire me based on what I already know?"
And boom — there it was: CATALOG!
So I did a quick search for companies who produce catalogs and found 11 potentials. I quickly whipped up an email stating who I was, what I did, what made me a good choice, and how to contact me.
I sent this same email to all 11 companies, only changing the name of the person I was addressing. And in just three hours, I had three replies from interested parties.
Four days later, one of those turned into an ongoing gig, and a $6,000 check (the first of several) was on its way to my bank account.
Talk about getting clients from thin air!
See how easy that is? And here's the best part …
This wasn't just a one-off deal. I've repeated this same process OVER AND OVER again, in a variety of different niches, and it has never failed to start conversations with potential clients — people who had no clue who I was before.
If you want a more detailed look at the step-by-step process I took to get that first $6,000 client (including the exact email I sent), it's tucked inside my Email Copy Made Easy program as a free webinar bonus.
But if you're struggling to get copywriting clients right now and don't know what to do, try getting more proactive in your marketing. It really works!

The Professional Writers' Alliance
At last, a professional organization that caters to the needs of direct-response industry writers. Find out how membership can change the course of your career. Learn More »

Published: September 5, 2016