Live: The Barefoot Writer September Issue By Mindy McHorse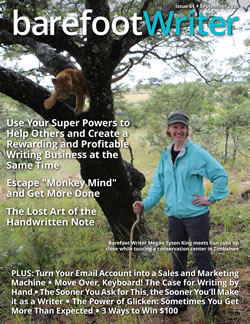 When you look at all the possibilities, it's astounding to consider what you can accomplish as a writer …
Sure, you can you earn a terrific income and work when and where you want. But along with that, you have the ability to bring about positive change — on a massive level.
Whether you're looking for a profitable way to write about causes you care about, or you'd like to explore new approaches to helping others through your writing business … you're going to love our September issue.
It's filled with stories and tips about how to find the heart and soul in your own writing business, including …
Unique ways to use your super powers to help others and create a rewarding and profitable writing business
Tips to help you find direction in life and success in business with a "golden compass"
Understanding the power of Glicken: Why sometimes you get more than expected
The lost art of the handwritten note
How to make the most of the role your friends and family play in your writing success
We're also humbled to feature writer and Internet marketing expert, Yanik Silver, who shares mind-blowing insights on how to get more out of your writing than just a great income.
Click here now to read your September 2016 issue of Barefoot Writer.
And to celebrate our five-year anniversary of publishing Barefoot Writer, we want to thank you, our dedicated subscribers, with five days of terrific giveaways …
Starting next week, we'll be awarding a ONE-YEAR membership to the Barefoot Writer Club — every day of the week! (That's a $149 value for each membership!) That includes:
Access to the next 12 months' of Barefoot Writer magazine, the preeminent publication for writers looking to make a great living while enjoying plenty of freedom
24-hour member-only access to our private website portal where members access key information, ask questions, and get answers from experts in the writing industry
Countless discounts on industry-celebrated writing programs designed to help you zero in on a writing career you love with an income you want
Member-only access to our private Facebook group where you can start a discussion about anything on your mind and get quick, honest answers
Your FREE copy of "The Secret of the $500 Email" by Jay White
Your FREE copy of "The One-Hour Work Week" by Nick Usborne
Your FREE copy of "Get Paid to Surf the Web" by Sandy Ferguson
Your FREE copy of "The Lazy Writer's Path to a Six-Figure Income" by Julien Sharp
Your FREE copy of "Get Paid to Take Your Next Vacation" by Jen Stevens
And so much more!
And all you have to do is stop by the Barefoot Writer Facebook page to win. We'll be doing the giveaways daily, starting Monday, September 5th. Keep an eye on the page and comment often for your chance to win!
If you're wondering why we're doing all this, it's because we're BIG believers in giving back to our subscribers. Watching you succeed at your writing dreams is what keeps us going … and you're the reason there's so much heart and soul in the Barefoot Writer.
Remember — to win in the giveaways next week, you must check the Barefoot Writer Facebook page often and comment when prompted. Looking forward to connecting with you there!
But if you don't want to leave it to chance and you're ready to become a Barefoot Writer Member NOW, click here to activate your immediate membership. We look forward to watching you build a successful, paid, freedom-filled writing career!

The Professional Writers' Alliance
At last, a professional organization that caters to the needs of direct-response industry writers. Find out how membership can change the course of your career. Learn More »

Published: September 2, 2016