Nothing Calms a Freelancer's Mind More Than the Promise of a Monthly Retainer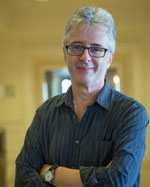 Nick Usborne
In my last article, I wrote about the priorities I share with Willie Sutton, the famous bank robber.
Put simply, we both go where the money is.
He focused on banks, and I go for those markets where I see fast and sustainable growth.
And right now, social media is where the growth is. It's where the money is.
But wait, there's more …
Beyond finding out where the money is, I also look for deals that reduce my stress load as a freelancer.
I want to wake up each morning with a mind that is calm, not stressed.
I want to know that I have money coming in this month, next month, and the month after that.
If that sounds too good to be true, I totally understand. Over my 30-plus years as a freelancer, I have had more than my fair share of days, weeks, and months where my primary emotion when waking up was a feeling of desperation.
Freelancing gives us freedom. But it can also give us a lot of uncertainty. Sure, we have some projects lined up for this month. But what about next month, next quarter, and next year?
It's that uncertainty about our future income that stresses us out.
That's why I have always been on the lookout for retainer deals.
A retainer deal is when a client doesn't pay you just for a single project, but pays you a monthly retainer fee to tackle an agreed-upon task or series of tasks every month.
For example, several years ago, I had a dream project with a consumer electronics company. I created a newsletter for them twice a week.
I did this for them every week for years. It was perfect, because while I still had other jobs with other clients, that one gig was a constant. I was on a monthly retainer deal and I knew that check would hit my bank account on the same day each month.
Retainer deals like that are pretty rare in the world of freelance writing and copywriting.
Maybe one in a hundred freelancers would get gigs like that.
Until now …
Because social media writing is ALL ABOUT monthly retainer deals.
Think about it. An e-newsletter publisher gives you a retainer deal because they publish on a weekly or monthly basis. They have a publication schedule they need to keep to. They need your help every week or every month.
Well … with social media, a company needs to stay on top of a DAILY schedule.
Social media channels move fast. Whether a company is using Facebook, Twitter, Instagram, Snapchat, or one of a host of other platforms … they need to be on top of their streams not just daily but hourly!
And most companies don't have the resources in-house to get this kind of work done. That's why they reach out to outside experts. To freelancers.
And pretty much EVERY social media writing contract is a retainer deal.
Let's look at what that might look like …
Let's say a company is currently on Facebook, Twitter, and Instagram.
At least, those are the places they have accounts. But they aren't being exactly "active." Sometimes a whole week goes by without them posting or adding anything new.
Well, that just doesn't work for social media. They need to be more active than that, and they know it. So they turn to social media writers like you for help.
They task you with keeping an eye on those three accounts, adding at least two new updates to each account stream each day, and responding to any comments or questions that come in from followers and friends.
That's not full-time work by any means. But you could typically charge a fee of about $2,500 a month for handling just those three accounts for that one client.
Not too shabby.
But like I said, one client isn't a full-time gig. So let's say you find three clients, all asking for about the same amount of help.
Now you're making $7,500 in monthly retainers, or $90,000 a year.
And you're still not maxed out.
Remember … you're making this money on dependable retainer deals.
This means you go to bed each night knowing that your income is taken care of for the next week, the next month, and the next six months.
Is it possible you could lose a client at some point? Sure it is. It can happen. That's why you never rely on just one client. You make sure you have three or four.
With three or four clients, the loss of one isn't a huge problem. And you still have money coming in from the others. So take a deep breath and get yourself a replacement client.
By now, I hope, you're getting a sense of why I think social media is the place for freelance writers.
First, it's where the money is right now, and will be for many years to come.
Two, social media gigs are almost always retainer deals. Which means you get a known and regular income each month.
What's not to love?
Next week, I'm going to tell you a little about how social media work for a client is like a "gateway gig." It's a foot in the door for a lot of other types of work.
Stay tuned!

The Professional Writers' Alliance
At last, a professional organization that caters to the needs of direct-response industry writers. Find out how membership can change the course of your career. Learn More »

Published: September 8, 2016