Social Media Writers Smile More and Probably Live Longer!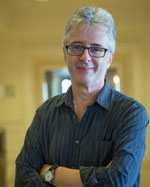 Nick Usborne
Why are social media writers happier than other online writers and copywriters?
First, because of the reliable, regular, and stable nature of their income.
Social media writers are almost always paid on retainer. This means you get an agreed sum of money every month, from each of your clients.
This takes almost all the uncertainty, stress, and guesswork out of being a freelancer.
You can go to sleep at night without worrying about next month's bills.
That's a pretty good reason to smile!
But that's just part of why social media writers have more fun.
The other reason is that as humans, we thrive on social interactions. We need other people in our lives. We need to connect with other people on a regular basis.
Some studies suggest that having a broad and active social network is as important to our health as exercise and a good diet.
And this impacts freelancers how?
Well, think about a typical week as a freelancer working on writing sales letters, web pages, or web content projects.
You can go for that entire week with almost no work-related human contact at all.
I'm not talking about your family and personal relationships outside of work. I'm talking about the time you spend as a freelancer "at work."
The truth is, most freelancers work in isolation, with close to zero human interaction during work hours.
Not healthy.
But when you work as a social media writer, all that changes.
As I mentioned in yesterday's article, Social Media is the Perfect Gateway Gig for Picking Up More Work, working on a company's social media often brings you into contact with several people within that company.
Also, because social media is fast-moving, you're going to be interacting with those people pretty much on a daily basis.
On top of that, you're going to be interacting with each company's social media audience. That's going to be part of your job. You'll be responding to comments, answering questions, and participating in ongoing conversations across several platforms.
In other words, your work life will suddenly become a whole lot more social.
You'll no longer be the proverbial freelance hermit, working away in the shadows and coming out of isolation once a week to check-in with your clients.
This is a big deal.
Working alone and feeling isolated is a very real challenge for a lot of freelancers. Most of us don't enjoy that feeling of being alone. It can be the hardest part of making the transition from working in an office to working at home.
Even if you didn't much like most of your colleagues at work, they were there every day. You got that much-needed dose of social interaction during every workday.
That's why I'm not kidding when I say that social media writers smile more and probably live longer!
This is the fourth and final article in this series. So let's step back and consider the benefits of working as a social media writer and marketer.
One … social media is a very fast growing segment of the online market. This is a big growth area, which makes it a prime niche for establishing yourself early and staking your claim as an expert.
Two … social media work is almost always paid for on retainer. This means no more stress about how much money will be coming in next month or the next. You get that recurring retainer check each and every month.
Three … social media is a gateway gig. That means it brings you into contact with the entire marketing team at a company, establishes your expertise in their eyes, and opens up opportunities to write more of their marketing and communications materials.
And Four … social media makes you smile and live longer! And that's simply because it adds a powerful dose of "social" to your life as a freelancer at home.
So … what's not to love?
If I were starting out fresh today, looking to launch a new career as a freelance writer, I would be all over social media.
In fact, I own the domain name SocialWebWriter.com.
I bought it a few years ago, and still have it. Just in case I need to start over or reinvent myself one day.
Truly. If I had to start over right now, I'd launch myself as a social media writer and marketer.
You might want to do the same. As I said in the first article in this series, If You Want a Reliable Income as a Writer Go Where the Growth is, I'd choose social media, "Because that's where the money is!"
Not to mention the smiles!
If you have any final thoughts, comments, or questions to share, please use the comments box below.

The Professional Writers' Alliance
At last, a professional organization that caters to the needs of direct-response industry writers. Find out how membership can change the course of your career. Learn More »

Published: September 15, 2016