From First Draft to Finished Piece – No Editor Required: A Comprehensive Editing Process for Web Writers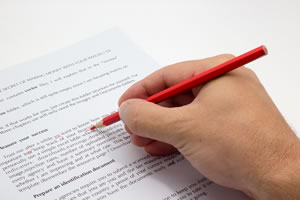 A fellow writer recently told me a prospect asked her to submit a truly rough draft. I'm talking about the kind of rough draft you know is filled with typos, awkward transitions and other grammatical errors.
I was puzzled by this idea. Because while a client has the prerogative to change your copy, it's difficult for me to imagine giving them something I didn't consider complete.
While I'll admit I was curious about the novel approach, it's not one I'll be adopting anytime soon. Unless you have an express request to the contrary from your client, clients should see your very best work.
And your very best work requires editing to get from your first draft to the final one. If you don't have an editor, you'll need to do it yourself. Don't worry — it's easy enough to learn, and it will make you a better writer.
First things first, get the first draft on paper before you start changing anything. It's tempting to edit as you write, but you'll be doing yourself a favor by writing first and editing later. By giving yourself permission to stay in the state of writing flow, the words come far more naturally. So pound that original draft out, no matter how ugly it is. Then take the following steps to make it shine.
13 Steps to Take Your Draft From "What Now?" to "Wow!"
1. Proofread first
The first step is simple. Your goal at this step in the process is to get rid of the proofreading marks your word-processing program added when you were typing. If you're writing by hand, do a read-through for typos and errors, correcting as you go so you won't make them when you type it up later. Fix everything accordingly.
Getting rid of these errors isn't foolproof, because the editing marks can be inaccurate. But you'll be able to tell a good edit from a bad one easily enough, and it's a good first step because those marks can be distracting.
2. Print it out
You've heard that "fresh eyes" are the best way to approach any given piece of writing to critique it objectively. You've likely experienced this firsthand. While you can't de-familiarize yourself with your own work, you can gain an outsider's perspective by reviewing it in a different format. So print it out and use the hard copy for your deeper edits.
3. Trim longer sentences
There's no set rule, but if you think a sentence may be too long, it probably is. Is there an "and" in the sentence? Remove it and break the sentence in two. The same thing applies to commas. If you see any passages with lots of commas, see if they can be reworked into a few shorter sentences that are easier to read.
4. Be concise
Say what you mean. If "the girl ran," then say that. "The girl was running" is appropriate if something occurred during the run. Otherwise, the latter statement is less direct and weakens your writing.
Passive sentences also weaken your writing. (You've probably heard this before, but it bears repeating.) "John wrote the article" is clearer and more straightforward than "the article was written by John."
Being concise also means being economical with your words. The fewer, the better.
5. Lose the adverbs
Adverbs are descriptive words that often end in "ly." They usually (see what I did there) modify verbs, so choosing a stronger verb can negate the need for one. Compare "he spoke softly" to "he whispered." The latter phrase is as descriptive as the former, but it's cleaner and more direct.
Two major adverbs to avoid are "really" and "very." Though they're common when people are speaking, they're filler words that don't add any meaning to your writing. So if you see one anywhere, get rid of it.
6. Remove all redundancies
This can be difficult, because redundancies are common in the English language. So check every single word (see, that was redundant) and remove the repetitive ones. Otherwise, you'll just annoy your reader.
7. Keep your lists consistent
Lists are a writer's friend, whether they stand alone or are part of a larger piece. Either way, when you use a list, make sure the items you include are consistent. For example, every step in this list is a short sentence that begins with a verb.
8. Maintain your flow
Here, flow refers not to the process of writing your draft, but to how the writing fits together. Take a step back from looking at your draft at the sentence level, and focus on how it all works as a whole. Are your transitions smooth? Is everything in a logical order? Polish any rough edges before you move on.
9. Check your readability score
If you use Word for your writing, you have the Flesch-Kincaid readability checker built into it. If you don't use Word, you can find plenty of other options online, and most are free. Just input your text and the software generates a readability analysis. Ideally, your finished piece should come in at a middle-school or early high-school grade level. If it's much beyond that, you'll lose your reader.
10. Read backwards
Read each sentence in the reverse order that they appear on the page, starting with the last one. This helps trick your brain into seeing with fresh eyes, as discussed earlier. You may catch something in this step you didn't see before because you're now interacting with the text in a new way.
You're now finished with your grammatical editing! Take a break from your draft, but don't walk away from it completely. A few other principles will help improve your writing, particularly direct-response copywriting.
11. Do a CUBA review
If you find anything in your writing that's Confusing, Unbelievable, Boring, or Awkward, cut it. Be ruthless. Your end goal is to have a well-written piece your audience sticks with to the end. CUBA passages interfere by driving your reader away.
12. Take the "Barstool Test"
In almost every circumstance, your writing should be conversational. This can be tough to achieve, because many people write more formally than they speak. Ask yourself if you'd say these words if you were sitting on a barstool and talking to a friend. If not, make some changes so you end up with a more casual tone.
13. Read your draft aloud
Step away from your draft again — overnight, if possible. If not, give yourself at least a few minutes of doing something else before coming back to it. Then read your draft one last time, and do it aloud so you can hear how it will sound in your reader's mind as her eyes move over the page.
All set? No more changes? Then you're done! Hit "send" or "publish" or do whatever else it takes to get your piece out the door.
The editing process may be tedious at times. But the more you edit your work, the more your writing will improve from the outset. Both your clients and your readers will appreciate reading something that's tightly crafted, and you may even land more work because of it. So take the time to get it done and present a finished piece you're proud of.
This article, A Comprehensive Editing Process for Web Writers, was originally published by Wealthy Web Writer.

The Professional Writers' Alliance
At last, a professional organization that caters to the needs of direct-response industry writers. Find out how membership can change the course of your career. Learn More »

Published: October 19, 2016