Landing High-Paying Copywriting Jobs Allows this Freelancer to Pursue Her Passion Projects, Too

Copywriting Is Her Permanent Plan B — an Escape from Corporate America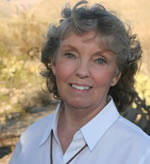 Pat McCord
Being a freelancer can bring a lot of benefits like a high income, an escape from the 9 to 5 grind, a flexible schedule … the list goes on. It's always a little different for every copywriter.
AWAI member Pat McCord leverages those advantages to pursue her love of literature. She writes award-winning mystery novels, children's books, nonfiction, and more. These days she always has one or more book projects in the works.
The writer's life — and the money she brings in from copywriting jobs (publishing can be so unpredictable income-wise) — gives her the ultimate flexibility. She has the money and time for writing books, which she didn't when she was in an office full-time.
"Many people have another life. Mine is writing books. Copywriting is something I can rev up and rev down as I need to fit my other life," she says.
In the past, book writing was an interest that was always secondary. But now Pat writes her books while maintaining a steady flow of freelance projects. She considers copywriting her Permanent Plan B, the ultimate alternative to the unfulfilling corporate world that left no time for what mattered most to her.
As an extra bonus, Pat says mastering copywriting has made her a better and faster writer overall, she says.
For Pat, it all started nearly a decade ago when she purchased The Accelerated Program for Six-Figure Copywriting, which has been responsible for launching hundreds of careers in this industry. It gives you a solid foundation in the art and science of persuasive writing, as well as building a freelance writing business.
The Accelerated Program for Six-Figure Copywriting puts you in prime position to build a freelance writing business that could provide you with a high income … copywriters regularly make six-figures a year … but also the freedom to pursue your own interests, just like Pat.

The Professional Writers' Alliance
At last, a professional organization that caters to the needs of direct-response industry writers. Find out how membership can change the course of your career. Learn More »

Published: October 18, 2016