After Long Indecision, I Finally Took the Steps to Seize a Copywriting Career

End of One Career …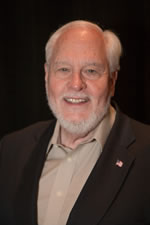 Lynn Little
In January 2015, I ended a long career as a college professor and retired after sitting through my last graduation ceremony.
I went home, sat down, and said to myself … "Now what?"
I didn't have a "now what." I only knew I had an active mind that needed to be fed, and a few skills ― in teaching, research, administration ― and writing.
… and in Search of a New Career
Then, one day in April, I got an email message from a group I had never heard of before … AWAI. You're probably familiar with the message.
"Can you write a letter like this one?"
I set the message aside and scrolled through the others. But something drew me back to the AWAI message.
AWAI was offering a special price on The Accelerated Program for Six-Figure Copywriting. Again, I set the message aside.
But, intrigued, I kept coming back to it. Finally, I ordered the program.
What I did next, I'm not proud of.
I didn't open the program. It sat there, while I explored other opportunities that turned up on my computer.
I continued getting other messages from AWAI. Reading these over several weeks, I began to develop a real interest in a copywriting career. I continued to read, and to read, and to read … but not to WRITE!
This went on for months. During this time, I discovered Steve Slaunwhite and B2B copywriting.
Now I felt I might really be on to something! Writing case studies, white papers, and long blog posts seemed like a good fit for me.
Life Interrupts
Then unexpectedly, I was offered a job supervising a hospital microbiology lab. I could use my former skills as a laboratory manager and medical technologist — as well as have a steady income!
I took the job, but soon discovered my lab skills were out of date!
I gave up this job after four months … and had lost all momentum as a wannabe copywriter.
Search for a New Career — Part II
In April of this year, I started over — exploring options.
Every time, I came back to pursuing a copywriting career, intrigued by the idea of living the writer's life ― using my skills to write when and where I wanted, while enjoying the freedom of being retired!
But what about my niche? My experience and expertise lay in medical technology. So … what else made sense?
Medical technology was my niche!
I enrolled in the AWAI Secrets of Writing High-Performance B2B Copy Companion Series, by Steve Slaunwhite, which confirmed my decision.
Circle of Success and Bootcamp
By now, after purchasing numerous AWAI programs, I realized if I joined Circle of Success, I could roll the costs of all these AWAI programs — and all future AWAI programs I wanted — into just the cost of becoming a COS member.
So, this summer, I joined Circle of Success!
And because two AWAI Bootcamps were included free in COS membership, by the time you read this, I'll have attended my first Bootcamp.
Am I excited? You know it!
Lessons Learned
What have I learned in my 18-month journey from zero to B2B copywriter?
Investigation ― If you're thinking about copywriting as a career, investigate it.
Read about copywriting broadly and deeply. Make a PROS and CONS list on a sheet of paper. Learn the differences between B2B (Business-to-Business) and B2C (Business-to-Consumer) copywriting.
Preparation ― I learned long ago there's no substitute for preparation.
Keep investigating all facets of copywriting to get the big picture. Which aspects appeal to you? Research those.
In the end, when you're on your very first call with a potential client, you'll be glad you prepared.
Implementation ― Being a student of copywriting is not enough … You Must Take Action!
This means you must decide what pathway of copywriting is right for you. Then take the steps required to get yourself into business and to succeed.
What are those steps?
Study the foundations of successful copywriting like I did. The Accelerated Program is the perfect starting place.
Learn everything you can about your chosen niche.
Market yourself to potential clients.
And of course … write. Always write.
Good luck, and best wishes for your success as a professional copywriter!

The Professional Writers' Alliance
At last, a professional organization that caters to the needs of direct-response industry writers. Find out how membership can change the course of your career. Learn More »

Published: October 25, 2016