Got fear? Find Out How to Use it For Writing Success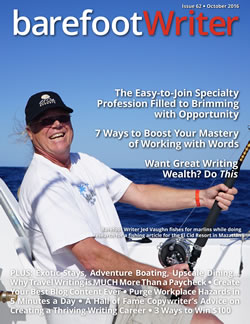 October is best known for two things: Colorful seasonal transitions and spooky festivities …
This month's issue delves into the fears we all face – fears I remember well when I started my writing career (some of which I still have to this day!). But what I love about the Barefoot Writer message this month, thanks to our contributing writers who've faced their fears and done it anyway, is that we ALL go through those stages, and we come out better and stronger for it.
The best part of all is the take-home message from Featured Interviewee Marcia Yudkin, who breaks down the common fear of judgement and explains why it's A-okay to BE YOURSELF in the writing world – and that in fact, that's what'll bring you the most success.
Every single writer faces fear at some point. You can harness that fear to power you through the tough patches. That's why our October issue focuses on ways to use fear and challenges as your fuel. That's why we've covered:
How to purge workplace "hazards" in just five minutes a day
An easy and enjoyable way to slash stress levels and boost writing performance
7 different ways to advance your mastery of words
What to do when you're ready to achieve GREAT writing wealth
Which easy-to-join specialty profession is filled to brimming with opportunity
Click here now to read your October issue of Barefoot Writer.
Are you ready to push past your fears and take the leap toward achieving your writing dreams? Because if you're serious about getting paid to write for a living, it's time to become a member of our Barefoot Writer Club. Along with your 12-month Barefoot Writer magazine subscription, you'll get …
Admittance to the Barefoot Writer Private Facebook Group where your fellow writers actively explain how they're growing their businesses and share priceless advice (and readily answer those burning questions that might be holding you back!)
Unlimited access to all back issues of Barefoot Writer magazine (over 2,500 pages of content designed to help you write better, faster, and for more profit!)
Wild discounts on celebrated writing programs proven to move writers forward in their careers (and earnings) at lightning speed
Plus, access to seven groundbreaking reports on the quickest ways to launch and profit from the most rewarding writing business models …
Membership into the Barefoot Writer Club is literally the most enjoyable and absolutely PROVEN route I know to life as a paid writer. Join the Barefoot Writer Club today.

The Professional Writers' Alliance
At last, a professional organization that caters to the needs of direct-response industry writers. Find out how membership can change the course of your career. Learn More »

Published: October 7, 2016