31 Things You Can Do in 30 Minutes Or Less to Market Your Freelance Web-Writing Services
By Michele Peterson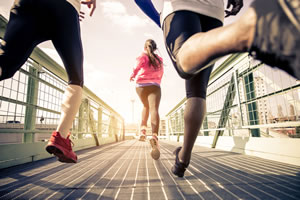 For many web writers, self-marketing is the elephant in the room they try to avoid.
We come up with lots of excuses, but most, if not all, just boil down to not having enough time.
It's true. Every day you have various things competing and scrambling for top position on your priority list — client work, family obligations, household chores, sometimes even the basics like eating and sleeping.
But somewhere, you need to carve out some time to market your business. If you don't, it eventually will wither, shrivel up, and die a lonely death. And you definitely don't want that!
You have to make the time to market your web-writing services. You have to face the elephant in the room and stare him down.
One smart way to do that is to use your smaller chunks of time — the time in between other tasks — to do something meaningful and effective that will help get the word out about your services and attract clients to you.
Smaller, Bite-Sized Chunks Make Marketing Your Web-Writing Services More Manageable
Your time is precious, but I bet you can find 30 minutes to move your business forward.
Here's what you can do in those 30 minutes … or even less:
Create and schedule social media posts for the week.
Write an email to your friends, family, and social connections reminding them of what you do and asking who they know that might need your help.
Write an email to follow-up with a new contact you met online or in person. (Save it as a template so you can personalize it and easily send it to each new person you meet without reinventing the wheel every time.)
Update your LinkedIn profile, and/or your profile on any other social network you use professionally.
Update your About Me page on your website.
Write out and refine your "elevator pitch" introduction.
Send a handwritten thank you note to clients and/or the people who have introduced you to clients.
Create a first draft of a simple, one-page lead magnet to attract new prospects. (Checklists, FAQs, simple ROI calculators, blueprints, templates … all make good lead magnets.)
Revise and finalize your one-page lead magnet to attract new prospects.
Create a simple landing page to collect opt-ins for your lead magnet.
Create the Thank You page for your lead magnet.
Write the autoresponder email to deliver your lead magnet.
Write an email to follow-up on your lead magnet.
Outline a blog post.
Write the first draft of a blog post.
Revise and publish a blog post.
Create social posts to drive traffic to your blog post.
Send an email to clients asking for testimonials.
Update your Testimonials page on your website.
Turn a client testimonial into a social media image and post it on your social channels.
Send an email to clients asking for referrals.
Create a content upgrade giveaway related to a successful blog post. (Downloadable checklists are a great option.)
Meet a web designer for coffee to build a mutual referral relationship.
Call or email your best existing clients to ask them what else they need from you … ask them how you can continue to serve them.
Update an old blog post with new, current information and relevant stats.
Shoot a Facebook Live video sharing tips to showcase your expertise. (Remember to include a call to action!)
Upload your Facebook Live video (always share them to your phone!) to YouTube.
Embed your YouTube video on your website as part of a blog post.
Write and send an email inviting your contacts to view and share the video with others they think will find it useful.
Send an email or letter to introduce yourself to someone you'd like to have as a client.
Pitch an article idea to the editor of an online publication that would give you good exposure and increase your credibility.
This list is by no means an all-inclusive one. There are many more things you can do to promote yourself. In fact, I'd love to hear YOUR ideas for other things you can do in 30 minutes or less to market your web-writing services. Please use the comments section below to add to my list.
But before you scroll down to add your comments, consider this …
"Great things are not done by impulse, but by a series of small things brought together." ~Vincent Van Gogh
And this …
"You don't have to see the whole staircase, just take the first step." ~Martin Luther King, Jr.
Take Enough Small Steps Consistently to Market Your Freelance Web-Writing Services and You'll Find Success
For most of us, smaller tasks seem easier. We're more apt to complete them.
On the other hand, larger complex projects can be so overwhelming as to paralyze us from even starting.
So if the strategy or task you've chosen to market your freelance web-writing services takes longer than 30 minutes to complete, and if that overwhelms you, simply break it down into smaller pieces you can accomplish in a smaller chunk of time.
Let the smaller chunks build on each other like rungs on a ladder or steps on a staircase.
You may not be able to leap tall buildings in a single bound, but you can certainly get there by climbing one small step at a time.
This article, 31 Things You Can Do in 30 Minutes Or Less to Market Your Freelance Web-Writing Services, was originally published by Wealthy Web Writer.

The Professional Writers' Alliance
At last, a professional organization that caters to the needs of direct-response industry writers. Find out how membership can change the course of your career. Learn More »

Published: October 5, 2016