Veteran B2B Copywriter and Mentor Named the 2016 AWAI Copywriter of the Year

Congratulations to Steve Slaunwhite!
Steve Slaunwhite's resume, built over 20 years as an in-demand B2B copywriter, is impeccable. He's created white papers, case studies, web content, lead generation campaigns, and other projects for more than 100 Fortune 500 companies.
"The world of copywriting has offered me a lot of opportunity to do different things like write copy for a lot of interesting clients," says Steve, who adds that if he could do anything … he'd stick with his current career path.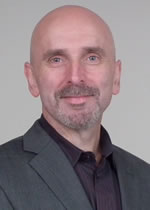 Steve Slaunwhite
But being a copywriter with a stellar track record and high-profile client list is only part of being named AWAI's Copywriter of the Year for 2016.
Steve loves his writer's life … and wants to share what he knows. He's a talented and generous teacher who is truly passionate about passing on what he's learned during his long B2B career to the next generation.
He's been a mentor, coach, and cheerleader for hundreds of up-and-comers over the years … and up to this day. In particular, he's passionate about passing on the secrets he's learned about the $6.5 trillion B2B market, which has more than enough work to go around.
"I actually have developed some competition," says Steve, who's based in Canada. "There are a few copywriters in the Toronto area, for example, who started by attending one of my workshops or through the AWAI program and are now well-known, very successful B2B copywriters. But there's so much elbow room on the market … it's still wide open."
AWAI members know Steve from his appearances at events like Bootcamp (he was presenting at the same event he received the award!) and the B2B Copywriting Intensive, as well multiple webinars and teleconferences for The Professional Writers' Alliance and B2B Writing Success, among others.
He's also led workshops and done copy coaching for dozens of businesses and associations, including ACAMS, Scheduling Institute, UPS, and Mindset Catalysts.
Many AWAI members know him best as the creator of multiple programs about B2B writing for AWAI, including Secrets to Writing High-Performance B2B Copy; Getting B2B Clients: How to Land Great Clients Fast in Just 6 Easy Steps; How to Write White Papers that Command Top Fees; Become a Lead-Gen Specialist: Earn Top Fees Writing B2B Emails, Landing Pages, and Ads That Sell; and How to Price, Quote, and Win B2B Writing Projects.
You can watch Steve's interview from this year's FastTrack to Copywriting Success Bootcamp and Job Fair in the video below.

The Professional Writers' Alliance
At last, a professional organization that caters to the needs of direct-response industry writers. Find out how membership can change the course of your career. Learn More »

Published: October 28, 2016