Take Your Copywriting Skills to the Next Level Without Spending a Dime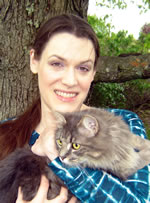 Kate Stelmaszek
Being a full-time freelancer is the ultimate writer's dream. But getting there isn't always easy …
Writers must juggle work and family commitments while practicing copywriting skills and growing their businesses. On top of that, you have to work alone.
… Or do you?
Almost nine months ago, five writers and I started a Copywriters Group on Facebook. Our writing today is stronger — clearer, more concise, and more focused.
And we've also gained confidence in our abilities.
Today, many of us are actively seeking clients … and some have made our first writing sales.
And I credit much of that success to our Facebook Copywriters Group.
Interested in starting your own copywriters group? It's free, easy, and participation takes only five minutes a day.
A supportive community of writers
My Facebook Copywriters Group works together as a cadre of writers who write, share, and offer each other constructive support.
The best part? It's an encouraging copywriting community that benefits us all.
You see, most writers working alone brainstorm ideas, revise, and edit their work alone. Some hire an editor. But good ones don't come cheap.
And unless the editor is a freelance copywriter herself, she probably doesn't understand copywriting's special approach and "rules."
But a community of copywriters is different.
Your copywriting skills improve by writing and critiquing each other's work. You become supportive friends because you're all working towards a freelance writing career.
Organizing your group for long-term success
So, how do you organize a Facebook Copywriters Group? It's easy …
First, sign up for Facebook at http://www.Facebook.com. Then find Facebook friends. Comment on posts. And write your own. You'll get the hang of Facebook in no time.
Next, find your group members.
AWAI offers a number of places to connect with writers on Facebook. Start by connecting with AWAI (American Writers & Artists) — it's a friendly group and you'll be welcomed there. Post about your interest in forming a group.
AWAI also offers specially focused, private groups for B2B writers, online web writers, professional writers from The Professional Writers' Alliance, and writers from The Barefoot Writer Club. Whatever your specialty, you can find a group of writers to connect with.
(You can also look for interested writers on the AWAI Groupsite Forums. For example, there's a special group just for COS members like me.)
Good copywriting groups are small, between 5-15 members. Choose fewer members if you plan to share your writing weekly, more members if you'll share less often.
When your group's ready, set up a Group Page on Facebook. Now you're ready to write. And share. And support!
How long should writing submissions be?
Keep them short — 100-200 words. Members shouldn't spend more than 5-10 minutes daily reading and critiquing.
Remember, copywriters are busy people. Keep group duties light so nobody feels overwhelmed.
When it's not your turn to submit, comment on your companions' writing. Keep comments positive and constructive. Identify an area in the writing that's weak and offer solutions.
Find your new copywriting friends today!
Don't write alone.
It's easy, free, and fun to start a Facebook Copywriters Group. In no time, your writing skills will improve. And you'll have found friends to share the journey.
Excited to begin? Great! Get started by exploring Facebook and meeting other writers.

The Professional Writers' Alliance
At last, a professional organization that caters to the needs of direct-response industry writers. Find out how membership can change the course of your career. Learn More »

Published: October 24, 2016