What Will Your Marketing Message Be?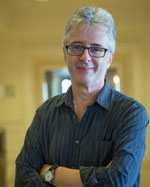 Nick Usborne
For many years now, first through one-on-one coaching and then through my articles and presentations, I've been encouraging freelancers to find a marketing message they can get behind, share, and love.
As I like to say … Love your message!
Just three words. But they can transform how you promote your freelance business, and totally change how you feel about marketing.
If you're like most freelancers, marketing yourself isn't your favorite thing.
In fact, most of us hate trying to sell ourselves and our services.
Why? Because rejection hurts.
When you pitch yourself to a prospective client, and they say "no," it's hard not to take it personally.
Rationally, we can tell ourselves this is just a business decision, and not personal. But it still feels personal.
I know this from my own experience. I hate that side of being a freelancer. Never mind having been at this game for decades now, it still stings when a prospective client says "no."
Except that it doesn't. Not anymore.
Why doesn't it sting anymore?
Because it's been many years now since I put myself in the position where I could be rejected.
How come? Because I don't sell or pitch myself.
I sell and pitch my message.
Totally different.
If a prospect says "no" when I pitch myself, it hurts.
If a prospect says "no" to my marketing message, it doesn't hurt at all.
And when it doesn't hurt at all, you can be much, much bolder with your marketing.
What's my message?
For the last 20 years, my message has been "Writing for the Web is different."
I don't use that exact phrase on my website, and I don't always use it in conversation. But it's the basis of everything I say and do professionally.
Since I started writing online full time at the end of 1997, I've been all about "Writing for the Web is different."
Back then, I had no qualifications as an online writer, no online clients, no samples … not even a website.
I couldn't have sold "myself" even if I had wanted to. There was nothing to sell!
But through my articles, and up on stage, I could share my message.
If people didn't "get it," that was fine. I didn't feel hurt. If they did get it, they hired me. And they still do.
Truth be told, I never even try to sell myself. I always sell my message.
I have my message, what's yours?
The marketing message you sell needs to be tightly aligned with the kind of work you want to do … and the clients you would like to work with.
It also needs to be a little provocative. It needs to fire up conversations and lively discussions.
When I say "writing for the Web is different," plenty of people come back at me with, "Yes, but …"
That's perfect. Now I've engaged them. Now we can start talking.
Now it's your turn …
Let's say you're going to launch yourself as a social media writer and marketer, pitching yourself to companies as an expert in that field.
You could try a marketing message like this …
"If you're not social, you're invisible."
Again, it's provocative. People might come back with, "Hey, that's not entirely true …"
Perfect. The discussion begins.
This becomes your thing. Your shtick. The starting point for discussions with prospective clients. The topic for 100 future blog posts.
And like I said, when it doesn't hurt to have your message rejected, you can go big and bold with your marketing.
You can go nuts with blog posts headlines like, "Why Akme Airlines is invisible." Intriguing, right? It's invisible because the company isn't active enough on social media.
Now you can punch way above your class when it comes to self-promotion, because you're no longer selling yourself, you're selling your message.
So … What's YOUR message going to be?

The Professional Writers' Alliance
At last, a professional organization that caters to the needs of direct-response industry writers. Find out how membership can change the course of your career. Learn More »

Published: October 14, 2016