AWAI Member Finds "Clear Path" to Copywriter Success

This B2B Specialist Has Landed Multiple Clients and a Retainer Contract, and That's Just the Start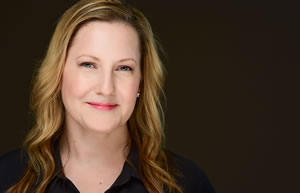 Gidget Hall
There is no shortage of ways to market yourself as a freelance copywriter. In fact, it's easy to get overwhelmed. But Gidget Hall found the right mix that worked for her writing business.
And now, in her first years as a full-time freelancer she's working with three regular clients and one has hired her on retainer. How's that for copywriter success?!
"Most of my client work has been B2B copywriting in the financial technology industry — writing for software companies that develop the systems on which banking and financial services run. I've written case studies, content marketing articles, email marketing campaigns, and a great deal of web copy — which I love," explains Gidget.

"My retainer client is a midsized company in this industry. They were grappling with tough competition plus existing marketing messages that were outdated and came across as 'small time' (their words). They had a big revenue goal but suspected their marketing was working against them.

"They were right.

"They really didn't know where to start — they struggled to define a priority list of what they wanted to accomplish. So the first thing I proposed as part of the retainer was a full content audit with competitive research.

"The results of that first project were eye-opening for them, so that led to my proposing a Core Message Platform (Thanks, Casey Demchak!) to form the foundation of everything we would develop from there."
Gidget has been busy but happy. Her run of high-profile clients came together after she worked with Joshua Boswell and learned his business-building strategies, especially how to attract ideal, high-paying clients.
"Should I be on social media every day? Direct mail? Cold calls? Etc." says Gidget.

"With Joshua's guidance, it became crystal clear which paths would work best for me. I have landed all of my clients to date through my network and the marketing system that I adopted after completing Joshua's 'Getting Clients Roadmap" program."
Gidget says that Joshua's marketing system was key. Instead of being overwhelmed and distracted by too many options, it helped her focus and reach her target buyers with her message in an efficient and highly effective way. Another important component of Joshua's program was the Information Packet.
"It was no small feat developing all of that content, but once I did, it really accelerated my prospect-to-client cycle. I put a great deal of that information on my website as well — several prospects and clients have expressed appreciation for putting all of that info out there and not leaving them to guess," says Gidget.

"And one more truly valuable piece of the program was Joshua's Discovery Questionnaire. I modified it to include questions unique to my industry, then kicked off every prospect engagement by asking them to complete it after our introductory call."
How does it feel to have reached this milestone? Like many AWAI members, Gidget is grateful to have left a stressful corporate job — making money for others — behind. And she's happy to have embraced her inner entrepreneur and build her own business.
"It is one thing to believe in oneself … to plan, to put in the work. But it's another thing entirely when the marketplace tells you that you can do it. The market doesn't reward wishes or intentions — it rewards results and value," says Gidget.

"It was the most liberating and gratifying feeling in the world to show my husband my first signed client contract. And don't even get me started on what it felt like to show him that first paid invoice and check.

"My motivation was already high, but getting that first check? Well, that moment was rocket fuel to my motivation. And each client contract and paid invoice since has only stoked the fires more."
With Joshua Boswell's guidance, Gidget Hall has landed three dream clients and has a retainer contract with one of them. Sometimes it takes a mentor to help you take the next step in your writing business.
For many, Joshua's coaching, proven business-building strategies, and client-getting techniques have been real game-changers. And his program, The Simple Path to Success, is a great way to work with Joshua to figure what you should be doing to get to the next level as a copywriter.
Until November 28th, it's available for a $1,200 discount.
Get all the details on The Simple Path to Success.

The Professional Writers' Alliance
At last, a professional organization that caters to the needs of direct-response industry writers. Find out how membership can change the course of your career. Learn More »

Published: November 27, 2016