How to Find Your Best Web-Writing Niche in a World of Crazy Abundance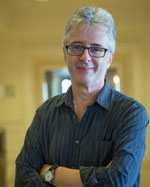 Nick Usborne
Choosing the perfect way forward for your web-writing career can be a challenge.
And, perhaps counterintuitively, the greater the number of choices, the harder it can be to find your perfect writing niche.
In my own career, those choices have been pretty easy, because there really weren't many choices at all.
When I first went freelance as a copywriter in London, England in the early 1980s, freelancer copywriters were pretty rare. On top of that, companies weren't accustomed to using freelance copywriters. This meant I had very little choice and had to focus on where there was work to be found.
In my case, at that time and in that place, that meant specializing as a direct-response copywriter. It was pretty much the only gig in town.
Zero abundance!
Fast forward to 1998, when I launched myself as a freelance web writer.
Same problem. It was a totally new market. I could probably have counted the number of "freelance web writers" worldwide on the fingers of one hand. Again, companies just weren't used to hiring people like me. Heck, half of them didn't even have websites!
So … that became my first niche online — writing websites.
Now fast-forward to today and we are looking at a WHOLE different ballgame.
I had too little choice. But you — if you're launching an online freelance writing career right now, or relaunching one — you're faced with what could be a confusing abundance of choices.
Online sales copywriter? Content writer? Blog writer? Social media writer? Email or e-newsletter writer? Mobile advertising writer?
And that's just scratching the surface.
Online writing is a huge industry right now, and it's growing at an astounding pace.
Let me throw a few numbers at you …
Digital advertising revenues in the U.S. alone surged to $59.6 billion in 2015. That was up 20% from the year before … and the numbers are going to be even higher for 2016.
Those tens of billions of dollars are being spent just on advertising online. That number doesn't even include spending on writing websites, emails, e-newsletters, social media etc.
Over the same period, social media ad spending grew by 55% and spending on mobile advertising grew by 66%. In just one year!
It's easy to get a little casual about big numbers.
But make no mistake … we are witnessing a massive surge in growth for online marketing and advertising.
And that means unprecedented opportunities for people like you and me.
Your problem is the opposite of the one I had.
Instead of having too little choice, you have too much!
The market for freelancers is awash with money. The demand for trained and talented online writers is far outstripping supply.
If you like to write, the online world desperately needs you!
Okay … so we have this state of crazy abundance.
You're faced with a dizzying array of opportunities.
So what should you do? Where should you turn? Which writing niche should you choose?
There are plenty of folks out there who will tell you to go "where the money is."
I understand why they say that. And it's really good advice when there is an absence of abundance. You have to find those few places where companies have money to spend on freelancers.
But that's not where we are at right now. Because there is money to be made everywhere online.
This changes things.
This puts you in the driver's seat.
So the advice I give is that you choose the niche where you are going to enjoy yourself the most.
Choose the type of online writing that comes most naturally to you, whether that be sales copywriting, content writing, email writing, social media writing … and so on.
To narrow things down further, you can also niche by industry. You don't have to, but you can if you want. When choosing an industry, pick one you can get excited about.
Remember, in times of abundance you get to choose.
And you will always do your best work and shine brightest as a freelancer when you do work you can really love and enjoy.
That's how we do it during times of abundance!

The Professional Writers' Alliance
At last, a professional organization that caters to the needs of direct-response industry writers. Find out how membership can change the course of your career. Learn More »

Published: November 16, 2016