Picking a Niche + Setting Up a Freelance Website = A High-Paying Copywriting Job with a Fortune 500 Client

This AWAI Member Says His Mentor Was a Key Factor in His Success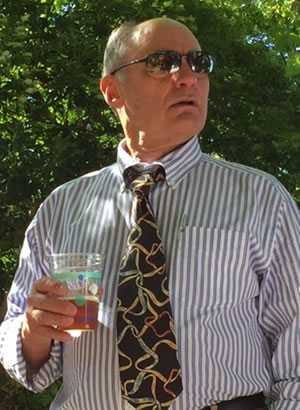 Bert Botta
There's no getting around it. As a copywriter there are some key steps you must take to get your freelance career off the ground and land a high-paying copywriting job.
Bert Botta, who went through Joshua Boswell's business-building program, The Simple Path to Success, had his breakthrough when Joshua forced him to make some tough — but necessary — decisions.
And it worked. He landed a high-profile B2B copywriting job with GE Aviation. Yes … the GE.
They were looking for an aviation copywriter, which matches up with Bert's work experience, to write a report on a new turboprop engine. GE found Bert thanks to a company they had hired to find an aviation copywriter. Bert had to "qualify" with this company by submitting his info packet and … he got the job!
Of course, that contact wouldn't have come in … GE wouldn't have found him … if Bert hadn't niched himself as an aviation copywriter and created a freelance website centered on that expertise.
"Joshua's program forced me to come up with my 'USP' piece since I was always 'beating around the bush,' trying to figure out who I was and what I had to offer," says Bert.

"The program helped me put together my website and in the process, set up my information packet that reflected who I really am and what I have to offer clients. I learned how to present myself and highlight my aviation experience."
Bert has also done social media work, blog writing, and more for other aviation clients.
"I've written a book and, in addition, have written many articles for aviation industry publications. I'm seeing the need and opportunity for articles in the pilot training field, and I'm currently exploring how to position myself for more higher paying copywriting gigs," says Bert.

"Recently I was hired to help build a aircraft simulator training company and have been doing some writing for them along with my instructing pilots and wannabes in state-of-the-art simulators that we have.

"This has been a lot of fun, pays fairly well, and puts me more directly in touch with the people in an industry that I know so well. This came about because of the recent demand for commercial pilots needing flight training and interview prep coaching."
Going through Joshua's program, The Simple Path to Success, was instrumental in Bert launching his career. With Joshua, you get a hands-on and involved mentor who is invested in your success.
Joshua shows you what you must to do to launch a thriving copywriting business. You'll land your first client, and all those after, thanks to a proven system. He's your mentor, coach, and accountability buddy who keeps an eye on you to make sure you stay on track with your career-building tasks.
You can join the next The Simple Path to Success program, starting soon.
It's available now for up to $1,300 off the regular price. But you must sign up by November 28th.

The Professional Writers' Alliance
At last, a professional organization that caters to the needs of direct-response industry writers. Find out how membership can change the course of your career. Learn More »

Published: November 24, 2016