What to Do When You Have to Choose Between Making Your Deadline and Turning in Your Best Work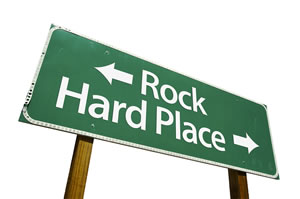 Last week, I showed you how to recognize when a project is going off track … and how you can take action to correct course before things get bad. Often before anyone else even notices there's a problem.
Sometimes, despite your best intentions, you find yourself working on a project that's nowhere near its target destination. The arrival time is looming, but you're looking at the ground you still have to cover and thinking, "Ain't gonna happen."
Fair warning, you're in for a bumpy ride. But even so, that doesn't mean you can't arrive at your destination looking your best and making an entrance to remember. It just means you aren't going to arrive on time.
Or if you have, have, have to arrive on time, the bumps are going to come from making compromises either in scope or quality. Ouch.
In either of these situations, the smartest thing you can do is accept where you're at and do the very best you can with the resources available.
Here's how to make that happen …
First, assess what progress you've made. Based on what you've already completed, can you compress your timeline and still deliver decent work to the agreed-upon deadline? Be honest about what you can do. Pulling an all-nighter is reasonable. Pulling back-to-back all-nighters … less so.
Sometimes you have a vision about how things were supposed to go, and when they don't happen that way, you get caught up in what's going wrong instead of focusing on what you've done right.
When you focus in on what you've already accomplished, you may discover you're closer to the finish line than you thought.
Next, make a list of what still needs to be done. What components are missing? What questions are unanswered? Break down everything on your list into tasks and estimate how much time it will take you to do each.
Prioritize each task on the list. Is it critical to the project? Is it very helpful but something you can live without? Is it a nice-to-have you wanted to include to impress the client?
Based on priorities and time required, come up with a best-case scenario that will allow you to submit good work on time.
Don't forget to consider the help available to you. You may be able to bring in a virtual assistant to help you work faster. A VA can take on a variety of tasks that may help you pick up the pace without compromising quality. You may have a contact within the client company who's available to help with certain things. Or an accountability partner who'd be willing to pitch in.
Keep in mind, you don't have to go it alone. And if you're facing a scenario where you can't do your best work without being late, then asking for help just makes sense.
Once you've looked at what you've done, what you still need to do, and what resources you have at your disposal, then it's time to determine if you need an extension of your deadline. If you do, let your client know as soon as you realize it.
The longer you give your client to adapt, the better off the project will be. If you have to take this step, then once you've received your extension, DO NOT miss the new deadline!
How to avoid similar mistakes in the future …
Any time you complete a project, it's a good idea to do a debriefing session, especially if you believe the project was bumpier than it needed to be.
You can do this on your own, with your client if he's someone you work with regularly or plan to work with again, with your mastermind group, or with a fellow writer over a cup of coffee.
I debrief with my business partner. I can do this step on my own, but I get more from the process when I have someone else's insight in the mix.
Basically, during the debriefing, I review the project looking for ways to make future projects run smoother. For a useful debriefing session, answer these questions as honestly as you can:
What went well? What did I do to make those things happen? What does that mean for future projects?
What happened that I didn't anticipate? How can I anticipate similar events in the future?
What mistakes did I make? How can I avoid those mistakes in the future?
What mistakes did my client make? Are there any actions I might have taken to prevent those mistakes?
In the end, these questions help me come up with a checklist of things to do differently on future projects with a similar scope. My checklist doesn't grow after every project, because fortunately most projects do go smoothly … but it does grow.
And that means I'm better equipped for every new project I take on. I just review the checklist as part of my planning process. It helps remind me of all the things I need to do early on, of how to best set milestones for the project type, and how to plan for communication. Often, that's all it takes to keep a project from ever going off track in the first place.
Have you ever had a project get off track? What happened, and how did you handle it? Share your experiences in the comments.
This article, What to Do When You Have to Choose Between Making Your Deadline and Turning in Your Best Work, was originally published by Wealthy Web Writer.

The Professional Writers' Alliance
At last, a professional organization that caters to the needs of direct-response industry writers. Find out how membership can change the course of your career. Learn More »

Published: November 9, 2016