Rescuing a Project That's About to Go Off Track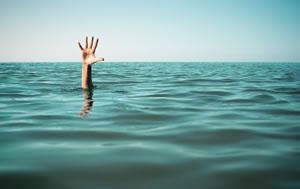 Few things are more frustrating than realizing you have a project that's gone off the rails.
If you're working with a client, you worry about damaging the relationship. Worse, you wonder if it will affect your reputation.
The best way to handle these situations is to recognize problems early … and to correct course while it's still easy to do.
That means being able to recognize the warning signs that a project is in trouble.
Red flags that a project is off track …
The following are a few things to keep in mind for any project you've committed to. If you see these things happening, don't ignore them. Think of it like driving a car — it's easier to make a small course correction than to haul your vehicle out of a ditch.
Loss of a champion: Projects almost always have a champion. Otherwise, the project wouldn't get the resources to move it forward (and to pay you). So, if your project loses its champion, that's a big warning sign it may be in danger.
Your best chance of keeping things on track is to become the project's champion. Put together a clear explanation of the project's goals and how it will benefit the company, and submit it to whomever has become your new contact. Use your persuasive skills to help that person become emotionally invested in the project.
Nobody is directing the vision: Sometimes the necessity of a project is obvious, but no one within your client's company seems all that excited about it. They may not quite see what the pay-off will be. It may be a status-quo project — something that needs to be done to keep doing business as usual, but that doesn't deliver a lot of growth potential to the client.
If your project doesn't have someone directing the vision, be aware that the project could run into trouble. Respond to this situation in a way similar to when a project loses its champion. It's even better if you can show your contact how they'll personally benefit from the success of the project.
Death by committee: Some projects have too many people excited about it or wanting to be involved. They all want to put their stamp of approval on the project, which often leads to a watered-down mess that tries to do everything and doesn't succeed at anything.
Be very clear at the outset of every project who has the final say. If you start to feel like there are too many cooks in the kitchen, work with the person who has final say to keep things from getting out-of-hand.
The goals keep a'changin': You know you should ask questions about the project goal at the outset, before you ever write word one. But some projects start out trying to accomplish one thing and then end up trying to accomplish one more thing … and one more thing … and even one more thing. Before you know it, you're working to hit a moving target. And that hardly ever goes well.
When you first see this happening, make sure your client knows about your concern. Often voicing your concern is all it takes to put the project back on the straight and narrow.
No risks are allowed: If every suggestion you make meets with a, "That's too risky … tone it down," sort of response, be advised you're heading for trouble.
If your client is objecting to every idea you suggest, ask them to be specific about their objections. Sometimes just talking through the specifics is enough to overcome this issue.
The client becomes unresponsive: When you're working on a project, you need certain things from the client. You need background materials. You need a phone conversation. You need the contact information for an expert you're supposed to interview. You're sending out requests for all this, but you're just not hearing back.
Usually this happens because your client gets busy, and you're relying on email as your sole communication tool. The fastest way to fix this problem is to switch from email to the phone. Phone calls are harder to ignore, and the ensuing conversation is usually quicker than dealing with a long email chain.
And, of course, there are also signs that a project is going off track on your end …
You've missed two major milestones: When you plan out your projects — especially the big ones — I hope you set milestones like when you'll complete your research, when you'll review your outlines and ideas with the client, when you'll complete your first draft, and so on. These major milestones are meant to keep you on track to do your best work and hit your deadlines. If you've missed more than one, you should be hearing, "Danger! Danger, Will Robinson!" Your project is headed for a rough patch.
Regroup immediately and put in extra hours to get back onto your original timeline. If that's not possible, contact your client as soon as you realize what's happening and adjust the timeline.
You delayed asking questions: For whatever reason — you were busy, you thought you knew everything you needed to know … whatever — you didn't have a sit down with your client early on to ask the questions you needed answers to in order to do a good job.
It may be embarrassing that you waited as long as you did, but bite the bullet and request the conversation anyway. You need that information to do your best work, so make sure you get it.
You're beating your head against a wall: Sometimes, you hit a point in the project where you're just struggling to make the words work. You try. And you try. Then you try some more. But you're still not happy with what you've written.
This is when it's time to phone a friend. Preferably a writer friend. Talk through the issue you're having and bounce some ideas around. Eventually you'll find a way past your blockage.
All these things are red flags that you may be headed for trouble (or already are in trouble). The faster you react, the more likely it is you'll be able to regain control of the situation and steer the project back on the road toward success. If you're able to do that, you'll preserve your relationship with the client, and even look like a hero when all is said and done. And who doesn't want that?
This article, Rescuing a Project That's About to Go Off Track, was originally published by Wealthy Web Writer.

The Professional Writers' Alliance
At last, a professional organization that caters to the needs of direct-response industry writers. Find out how membership can change the course of your career. Learn More »

Published: November 2, 2016