Tapping into What's Most Important to Your Prospect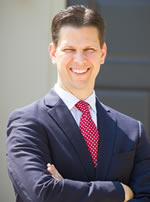 Joshua Boswell
How would you like unlimited, automatic client flow?
It's possible, and it's not as hard as you think.
The secret lies in this acronym: RAS.
Once you know what the RAS is … and how to activate it … you can easily enjoy unlimited client flow for a lifetime.
Here's how it works …
Have you ever bought a new car … only to discover that suddenly it seems everyone on the planet has that car?
How's that possible?
Your senses pick up every sight, sound, motion, temperature, and … well, everything in the world around you.
But, you can't process all that data. So, your mind filters out 99% of what you see, hear, smell, taste, and touch.
This filter is the Reticular Activating System … or RAS for short. It helps you pay attention to what's important to you … and what's not.
Guess what?
Right now, your potential clients have an active hotspot in their RAS.
It's telling them to pay attention to certain emails, names, phone calls, articles, etc. …
Everything else is ignored or quickly filtered out.
The great secret to all good marketing is to know your clients well enough to know their RAS hotspot.
In other words …
Tap into what's already labeled as important in their mind.
Step One: Market
You learned then that you must discover your strengths. Once you get that insight, you know the best potential clients to approach.
Once you know whom you're talking to … you must decide what to say to them.
Step Two: Message
Your Message will either activate your potential clients' RAS … or not.
If it does, they'll give their undivided attention.
If not, you can blast them with emails, reports, fancy websites, and webinars until the cows come home … but they'll still ignore you.
To find your prospect's RAS hotspot, do these three simple things:
First, research your niche. Make a list of all the kinds of copy they're using right now.
Email, blogs, websites, snail mail, white papers, banner ads, video scripts, phone scripts, etc. …
Dig deep and find it all.
Second, determine which of this copy brings the client the most money.
For example, the financial newsletter industry uses emails, website content, opt-in forms, long copy sales letters, and Video Sales Letters.
The stuff they use the most … and brings the most profits … occupies the biggest hotspot in their RAS.
Third, establish yourself as an expert who does that kind of copy in that market.
Being this expert is not as hard as it sounds …
Think of a guru or expert you know and like.
How do you know they're experts?
This is our final Step.
Step Three: Match
Once you know your Market … and how to get their attention … you need to get them to act and hire you.
I call this action step "Match" because you're matching your services with their known demand.
Here's how Match works …
You know that old expression, "You can lead a horse to water, but you can't make it drink?"
I mostly agree, but what if we change the expression a little bit, like this …
"You can lead a horse to water, but you can't make it drink … but you can salt the oats!"
"Salting the oats" means you do and say things that make potential clients really excited — almost desperate — to hire you.
In short, you become a recognized unique expert in your field.
Notice that I didn't just say become an expert.
How do you become this unique expert?
I'm not talking about celebrity status. As a mentor of mine once said, "I'm famous among a very tiny group of people … but it pays very well."
Consider experts you know and how you know they're experts.
You read articles by them … saw them on TV … or something similar.
You — yes, YOU — can do this and become a unique expert.
Once you know what your prospect is reading and watching and whom they're talking to, you simply position yourself to show up in those places and share a Message that will activate the client's RAS.
When they need a copywriter, you will be top on their mind.
Here are three steps you can take right now to become a unique expert …
First, discover your unique set of strengths.
Second, research events, publications, social media, and other information sources that are used in your niche.
Pick one you're comfortable using.
If your niche uses social media and you're a LinkedIn master, pick social media.
Third, using RAS messaging, write a Query Letter.
A query letter is a simple letter that persuades an editor, event planner, celebrity, etc. … to share your content with their audience.
Use this Query Letter template I've created (you can get it here, free of charge) to better understand the process and write a winning query letter.
When your target audience sees you on stage, reads your articles, or listens to your interviews, they'll see you as an expert, offering something they can't get elsewhere.
They'll be eager and excited to hire you and pay handsomely for the privilege. ;-)
So, there you have my simple, three-part system … Market, Message, Match.

The Professional Writers' Alliance
At last, a professional organization that caters to the needs of direct-response industry writers. Find out how membership can change the course of your career. Learn More »

Published: November 28, 2016