2 Ways a Money-Making Website Will Help Grow Your Freelance Writing Business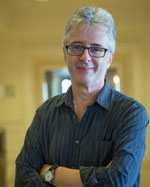 Nick Usborne
Over the last few days, I have been writing about the benefits of writing your own Money-Making Website.
First among those benefits is the feeling you get when your website starts earning you passive income.
It's wonderful to write on a topic you enjoy AND make money at the same time. Plus, it's the kind of income that keeps on flowing, even when you're not at your desk. It's truly passive income.
However, as they say on late-night TV … But wait, there's more!
In addition to the direct income your website will generate, having a Money-Making Website can also contribute to the success of your freelance writing business in two important ways.
#1 — Having your own website creates the ultimate learning environment
Yes, my website about coffee makes me a nice passive income. But over the years, I think its greatest value to me and my freelance writing business has been more indirect.
And this is a benefit I hadn't anticipated. I didn't see it coming at all.
What happened, once I had started to attract a few visitors to my site, was that my coffee site became an amazing learning center for me.
It's safe to say that I have learned more about writing and marketing online from my coffee website than I have from any other source.
Think about it …
For my coffee website to succeed and grow, I have had to develop my expertise in all kinds of different areas.
I've had to hone my skills as a content writer and copywriter. I've had to keep pace with changes in the field of Search Engine Optimization. I've had to stay ahead and practice what I learn in social media. (Recently I opened a CoffeeDetective.com account on Instagram. I'm learning a lot, and really fast.)
The point is, we all learn better by DOING than simply by reading or listening to a teacher.
That's why I say I have learned more from my website than I have from any other source. My Money-Making Website has become my test bed and my core learning center.
This means I feel totally confident when clients ask me to do work for them.
Whatever they want to throw at me, I know I can help. And I know my knowledge is up-to-date. Because I'm doing this stuff for my own website every day.
#2 — Having your own website is the ultimate business card or brochure
A while back, I was approached by a company through my regular freelance website, nickusborne.com.
It was a coffee company.
They had first heard of me through my coffee website. Then they found my freelance website. Then they sent me an email asking me if I had time to help them.
Think about that process.
I didn't approach them. They approached me.
I didn't have to pitch myself or my services. They were ready to buy.
How come? Because my coffee website had told them everything they needed to know about my expertise as an online writer, copywriter, and marketer.
In other words, my coffee website had become the ultimate sales brochure for my freelance writing business.
It is proof of my expertise across multiple online marketing skills and disciplines.
How much has my coffee site contributed to my overall freelance writing income in this way? Hard to say. But I bet it's equal to the direct income I get from the site. Maybe more.
What's not to love?
I thoroughly enjoy writing my coffee website. It's fun. It's a blast. It keeps me sharp and it pushes me into developing new skills — like creating online videos, taking better photos, and even making better coffee!
On top of that, it makes me a very welcome stream of passive income that comes in every single month like clockwork.
Plus, it's the ultimate showcase of my skills, and creates another stream of income through the client work it generates.
Best of all, this is something anyone can do. It used to be that creating a website was a huge technological struggle. Not anymore.
Today, website creation tools are simple and easy to use.
This means anyone can create a Money-Making Website on a topic they love.
You definitely can … because you're already a writer.
Like I said … what's not to love about doing this, right now?

The Professional Writers' Alliance
At last, a professional organization that caters to the needs of direct-response industry writers. Find out how membership can change the course of your career. Learn More »

Published: December 6, 2016