3 Proven Success Tips for Your Money-Making Website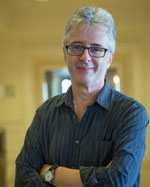 Nick Usborne
I've been watching my baby grow and thrive for almost 10 years now.
When I say "baby," I'm talking about my website about coffee, CoffeeDetective.com.
A lot has changed over the course of those 10 years. Billions more people are now online. Millions of new websites have been created. And, of course, technology has made huge strides. The iPhone didn't even exist when I first launched my site!
Over that time, I have had my fingers on the pulse of what works and what doesn't work. I have also learned to navigate some big changes — like when Google introduces game-changing search updates.
In other words, I have learned a lot. And I have figured out some of the core fundamentals that drive success with any Money-Making Website.
I could make this list longer, but I want to keep it to the absolute essentials so I chose three proven success tips.
Let's get started …
#1 — Create great content
This means that when you create new pages for your website, take the time and trouble to create really, really good pages. Helpful pages. Authoritative pages. Entertaining pages.
It's easy to be bitten by the "more is better" bug. Too many site owners just want to pump out as much new content as quickly as possible.
I understand why. I get the motivation. But tons of so-so content isn't going to help you grow your audience.
Think about it. Why would anyone come back to your site or recommend it to their friends if you don't deliver great information?
Whether you're writing a new post, publishing a photo essay, or even creating a video for one of your pages, always try to do your best work.
Online, good content inevitably rises to the surface.
#2 — "Be there" and be social
Go back 10 years and you could pretty much stay in the background. You could pick a topic for your website, write numerous high-value pages, but remain anonymous.
It's possible to do the same today. But I wouldn't recommend it.
The rise of social media has given people a taste for knowing the "real" person or people behind websites. They want to see who you are, they want to know you at a personal level, and they want to interact with you.
That point about interaction is key.
The day I first invited my readers to send me their questions about making gourmet coffee was the day my website began to take off.
People love to interact with you. They want to feel you are really there. And they love to see that you're active on social media.
Put simply, the days of hiding behind your website are over.
Step out front, get social, and be there in person for your visitors.
#3 — Publish consistently and never stop
The Money-Making Websites that succeed are those that are created by people with a stubborn streak. That definitely includes me!
Too many people start off with good intentions and plan on adding new posts or pages on a weekly or even a daily basis.
And then … well … they stop or slow down.
One of the immutable keys to success with this model is to consistently add new content to your website on a regular basis.
That's why I get a ton of traffic to my coffee website. My readers know they can depend on me to keep publishing. And most of my competitors over the years have just given up.
To succeed at this, you need to be stubborn.
And, of course, it's a lot easier to keep publishing great content when you are really passionate about your topic.
That's it for today.
In the next article, I'll be writing about how creating a website on a subject you love not only makes you a passive income, but can also add amazing value to other aspects of your freelance writing business.
If you have any comments or questions about this article, please add them below. And why not take a few minutes to check out the program I put together on creating your own Money-Making Website? As I've mentioned, mine is on coffee … everything coffee. Most people wouldn't think that creating a website on coffee could earn me so much money, but it does and has for the last 10 years. It shows that you can take any subject and earn good money with your own website. To help make sure you get it right, I walk you through all the steps involved. You can learn more by going here.

The Professional Writers' Alliance
At last, a professional organization that caters to the needs of direct-response industry writers. Find out how membership can change the course of your career. Learn More »

Published: December 5, 2016