Am I Good Enough to Make My Dreams Come True?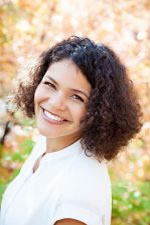 Jen Hunsaker
I used to think that I was strong and fearless, until I found the one thing that scares me to death.
Call it cowardice, but I have only pursued the things that I knew I could be successful at.
I like to run, but I don't race.
I like to bake, but I'll never own a bakery.
I like to sing, but only in my car or the shower.
Are you sensing a pattern?
So, when I left my steady, boring, reliable job last year, my fear crept up on me.
After I quit to stay home with our girls, we were suddenly a single-income household on an income that was not steady.
We had to buy our own insurance. News flash: that stuff is not budget-friendly and premiums are rising every year.
Our needs were growing with our family, but our budget was shrinking.
I considered going back to work. But I reminded myself I left for a reason.
And it was a good reason. I wanted to be the one to raise our girls. An added bonus: we saved money on daycare!
Still, I fretted. What if something happened to my husband or his job?
Is dental insurance really that important?
How are we going to squeeze tuition for our kids into our ever-shrinking budget?
The kids won't stop growing, which means they need new clothes every couple of months.
One night, I was by myself and casually surfing the Web. Around midnight — when all magical things happen — I saw an ad.
Live the writer's life.
I clicked and felt … excited … intrigued … passionate … hopeful … and scared. It all seemed too good to be true.
So, I read. And read. And read. And read.
I started receiving emails from AWAI and Barefoot Writer. I read lots of testimonials, all the free articles I could find, and another month's worth of emails before I bought anything.
I refused to invest in the BIG program. You know, the one for serious copywriters that teaches them how to write a sales letter and become a six-figure earning professional.
Yet the more I read, the more tempted I was to just jump in and take that leap of faith.
The final push came from my husband.
My dear husband has a business owner mindset and isn't afraid of finding different ways to make money.
After he sat through hours of me talking about AWAI, he said, "Just do it," with more exasperation than encouragement. "Stop trying to talk yourself out of doing this. Spend the money and just do it."
A little harsh, but effective. This pep talk came the same week that I got an email from AWAI about Virtual Bootcamp. (Bootcamp itself was already long sold out.)
I felt this was it. The boost I needed.
I registered for Virtual Bootcamp. I bought The Accelerated Program for Six-Figure Copywriting. I started working my way through it while I waited for Bootcamp to start.
When Bootcamp finally arrived, I woke up at 5:30 a.m. to catch the first speaker: Carline Anglade-Cole. Talk about a great first impression. I'm not ashamed to say that I have a legitimate girl crush on Madam Carline.
Each speaker was just as amazing. They made living the dream seem so doable.
And, most important, they all personified the substance of my dreams. These expert copywriters worked from home, on their own timetable, and with clients they choose.
But the doubt continued to linger. I'm not Carline. I'm not Rebecca or Katie. And I'm definitely not Steve or Clayton.
The presenter who really emboldened my sense of purpose and determination was Brian Kurtz.
He rattled off acronyms of the trade I had to look up later and listed giants of copywriting I had to Google. It was all super intimidating!
But he stressed the necessity of hunger, curiosity, passion, and work. He told us to outwork everyone. To learn as much as we can about our market and industry. And to be proud of everything we write — even if it doesn't become the control.
By the end of his presentation, I realized Brian had given me my roadmap.
All my insecurities, fear, and doubt had grown and festered because I was so new to the industry. But Brian showed me how to swim with the big fish: work, study, and passion.
These aren't innate skills; they're conditioned.
What originally sold me was an ad that was less like a sales pitch and more like a promise. AWAI promises to show every would-be writer how to succeed, so long as every would-be writer commits to doing one thing … work.
I'm still a fledgling writer. I don't have any clients yet. But I'm firmly on the path and I will be forever grateful to AWAI and Bootcamp for showing me how to gain security for my family and a life worth enjoying.

The Professional Writers' Alliance
At last, a professional organization that caters to the needs of direct-response industry writers. Find out how membership can change the course of your career. Learn More »

Published: December 29, 2016