Cause Marketing Trends You Need to Know for Your Writing Business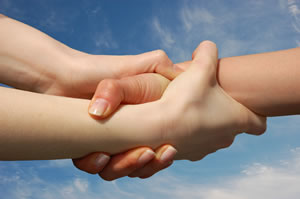 Get Paid While Saving the World … One Cause at a Time
This time of year, it's common to think a little extra hard about how you can give back to your community.
With your skill set as a writer, you don't have to wait until the holidays to do a good turn for the organizations you love most. You can help those organizations do good work for the people they serve year-round.
And you can even get paid for your efforts … which might seem a little weird, but trust me, you can do so much to help raise money for the causes you love, that the people you work with will be happy to pay you for your efforts.
A Top Marketing Trend
Cause marketing has become a fast-growing trend among businesses. More than two thirds of all businesses use cause marketing as a strategy for attracting new customers and building their brand reputation. Ninety-seven percent of marketing executives cite cause marketing as an effective business strategy. And more than half of consumers look at product labels for cause support information before making a purchasing decision.
In short, cause marketing works. Not only does it work, but your potential customers actually want to be marketed to in this way. So, it's good for business.
But what about the charities and causes it's meant to support?
Cause marketing works on that front, too. Far from a feel-good strategy that only benefits the for-profit businesses involved, cause marketing efforts raise nearly $2 billion for charitable organizations every year. And that number has nearly tripled since the year 2000. Through cause marketing, charities are able to connect with new donors and expand their base of supporters.
And here's the kicker. The millennial generation prefers to give money to causes through the businesses they patronize rather than directly. As a trend, cause marketing is going to keep going up, up, up.
What Exactly Is Cause Marketing?
Okay, so before I talk about how you can use all this information to grow your web-writing business, let me back up for a moment and explain exactly what cause marketing is.
Cause marketing is when a business partners with a charity to help raise funds for the charity through their own customer base.
This can work in a lot of ways. For example, let's say a restaurant decides to raise money for the local children's hospital.
They might advertise that during a specific week, all their profits will be donated to that hospital. They use the advertising to attract more patrons. People looking to eat out think, "I was going to spend the money anyway, so why not eat where I know some of my money will go to a good cause."
During the fundraising week, the restaurant gets more customers than usual, because people want to help out while doing something they would already being doing anyway. That means the children's hospital benefits. It gets quite a bit of money from the effort.
But the business also benefits. It enjoys new customers who, if the restaurant has done its job right, will come back again and again. And it also enjoys a boost in reputation, which can attract more future customers, too.
Everyone wins. The customers get a good meal and feel good about helping a cause … the children's hospital gets much-needed funding and some extra publicity, which can result in a spike in direct donations … and the business gets new customers and the reputation as a valuable member of the community.
Now, I'm sure it won't surprise you to learn that businesses need good writers to help them execute these kinds of cause marketing campaigns. That's where you come in.
Launching Yourself as a Cause Marketing Writer
It's common for medium to large businesses to participate in cause marketing. And if they're not already, they're probably considering it in the near future. In other words, there are a ton of potential clients for your cause marketing services.
The first step to offering this service is to get very familiar with cause marketing and what makes a successful campaign work. When you do that, you'll be able to discuss your potential client's goals intelligently and make suggestions to not only help them figure out their message but also to design their overall strategy.
One way to do this is to study cause marketing campaigns that have worked. These links will get you started:
Successful cause marketing campaigns generally have a few things in common:
They stem from the for-profit company's core values. A fitness company supporting a charity that provides sports scholarships to kids or makes sports activities accessible to people with disabilities makes all the sense in the world. But imagine the disconnect if that same company aligned itself with a charity that focused on making video games more accessible to people with differing abilities. It's still a worthy cause, but it doesn't fit at all with the company's focus and mission.
They are true campaigns. They run for a limited time. This may seem counterintuitive. If you want to raise money for a cause, why not make it an ongoing thing? But with no deadline, there's no urgency. A time-limited campaign will generally make a bigger splash, both for the company and the charity. (It's also good for you as a writer, because it means your cause marketing clients will need you to create new materials for new campaigns several times a year.)
They focus on on-going partnerships with one or two charities. Even though cause marketing works best when you set a time limit on your campaigns, companies and charities see more success when they work together over the long term. The company gets to know the charity's needs better. And the customers learn to anticipate the next campaign from that company to support their favorite charity.
By having a strong understanding of the workings behind a cause marketing campaign, you'll be prepared to work as a consultant with your clients, handling the writing and also providing guidance to help their campaigns perform well. When you do that, you'll find yourself in high demand and making a very good living doing something that helps to make the world a better place.
This article, Cause Marketing Trends Your Need to Know for Your Writing Business, was originally published by Wealthy Web Writer.

The Professional Writers' Alliance
At last, a professional organization that caters to the needs of direct-response industry writers. Find out how membership can change the course of your career. Learn More »

Published: December 21, 2016