My Inside Story: How Copywriting is Helping Me Relieve Hunger in My Community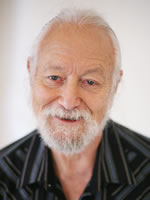 Will Newman
Did you ever go hungry as a child?
I did.
When I was young, growing up with a very dedicated mother and an in-and-out-again father, there were several times I experienced what's now euphemistically called "food insufficiency."
I hate that term. It ignores the reality of the loneliness and isolation children feel when they go hungry.
I remember at six years of age eating mashed potatoes for dinner. And sandwich-spread sandwiches for lunch. Nothing else.
I remember at eight having to stay home from school because my mother didn't have any food for my sister's and my lunches. (My father had long since left.)
Now, don't feel sorry for me.
My experience as a young boy has led me to a new "job" I'm gladly writing for free.
You see, I live in a rural mountain community. And rural America is poor America.
The town I live in — for all its charm and endearing qualities — is poor. The Donors Choose website ranks my town as having "very high poverty."
How does this express itself?
95% of the children in my elementary school qualify for free or reduced meals. (The number's so high, our superintendent/principal qualified us for a grant so all children receive free breakfasts, lunches, and snacks.)
Our kids are getting fed at school. But what can you say about a little kindergartner — and I'm serious about him being little — who goes through the breakfast line three times?
He's not experiencing food insufficiency. He's hungry!
So, a year ago, my Rotary club undertook what's called a Backpack Food Program.
This is where children in our school can bring a backpack of easily prepared foods home for weekends when they're not receiving school meals.
This isn't the place to go into details, but my community needs this program.
This will be an expensive program. We're now at the stage where we're seeking both short-term and long-term funding from a variety of sources.
And who did the committee choose to write the fundraising letters to those sources?
As the committee said in appointing me, I was a natural.
To be honest with you, when I started copywriting, I never thought I'd be writing fundraising copy. Financial first. That gave way to alternative health.
About 10 years ago (I think), I ran across an AWAI program that caught my attention. Back then it was called something like, "Writing for the Fundraising Market."
[Now AWAI offers two programs which cover different niches of "fundraising" copywriting: Copywriting for Nonprofits and Copywriting for a Cause: How to Profit as a Writer and Make a Difference in the World.]
When I first saw that Writing for the Fundraising Market program, I knew that was what I yearned to do. It took time getting to where I can now write effective fundraising copy. It was worth the wait. And worth taking the time learning the lessons in the AWAI fundraising program.
I learned a tremendous amount from this program about how the great fundraising copywriters are able to touch people's hearts to loosen their pocketbooks.
One of the things I learned, I hope I demonstrated here.
Statistics are important in proving the need. But stories — like the brief story of a hungry skinny kindergartener — touch the heart.
Now, don't feel sorry for me and my early experiences with hunger.
Don't even feel sorry for the kindergarten boy or his schoolmates.
Instead, join me in celebrating that AWAI is teaching copywriters how to write meaningful fundraising copy and harness the power of the word to make the world a better place.
I'd love to hear your thoughts on the power of your words to do good in the world and raise funds that can make a difference. Do you have an interest in fundraising or cause copywriting? Comment below and tell us your thoughts.

The Professional Writers' Alliance
At last, a professional organization that caters to the needs of direct-response industry writers. Find out how membership can change the course of your career. Learn More »

Published: December 15, 2016