Powered By Its 450,000 Members LinkedIn's New Profinder Is a Service That Helps Clients Find You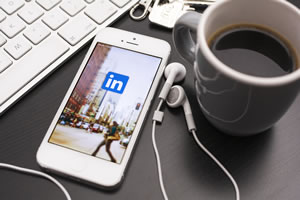 There are many websites that can help bridge the gap between freelancers and clients who need their expertise. And, as of August of this year, add LinkedIn's Profinder service, with its more than 450,000 members, to the mix.
It all began when LinkedIn identified a 50% increase in freelance participation over the past five years. That began a commitment to develop a useful way to "link" these skilled professionals with other members for short-term needs and projects.
But, don't look for Profinder on your LinkedIn profile page. It's a behind-the-scenes service that pre-screens its freelancer pool. The qualification step assures member clients that they receive proposals from highly skilled providers.
Right now there are 140 areas of expertise in 13 "macro" specialties. For example, the "Writing and Editing" specialty has eight subcategories including copywriting, blogging, and content strategy.
Unlike other LinkedIn marketing opportunities, the Profinder platform acts as a kind of "seal of approval" for qualified participants. And, it's easy, because Profinder finds the clients, sends you the request for proposal, and you can review with complete anonymity.
So, how do you qualify to join?
Develop or review your LinkedIn profile. Key words in your headlines, tag lines, or job descriptions will be reviewed by Profinder to determine that you have the specified skills.
Go to LinkedIn/profinder/pro and fill out their form. This will ask you to list your specialties for profile review.
When you qualify, you'll receive an invitation to a webinar to learn how to use the platform and dashboard.
Once you've completed the webinar, a dashboard will be opened for you to customize.
Welcome to Profinder. You are now a qualified LinkedIn freelance pro.
And now, all you have to do is wait for an email notification and send your first proposal.
But, not so fast …
The platform is very new, very simple, and has limitations. Here are a few things to consider before you hit the "submit" button on your first request for proposal (RFP).
By design, Profinder's RFP is short and easy to fill out. This means you may not have enough information to determine costs, conditions, and goals when responding.
You're also required to set an hourly or per-project price, or the proposal will not be sent.
After some initial failures, I set a comfortable hourly price, but also placed a statement in the narrative box offering "per-project pricing" and "discounts" when scope of work is determined.
Next, there's a strict time and proposal limit on all RFPs. You have a mere 24 hours to respond. But, since there's also a five-proposal limit, I've seen offerings close in as little as one hour. Once the client has five, the system shuts off, and no additional proposals are considered.
I've missed out on some good opportunities. So, rather than building a completely customized RFP for every client, I have four templates – one for each writing or marketing specialty. This way, the basics are covered, and I can quickly address some of the specifics. Using this approach, I've submitted more proposals, which has led to more work.
What's next?
Once your future client has the proposal, there are four outcomes you can expect and follow on your dashboard:
It's not read.
It's read but not responded to and expires.
It's declined.
It initiates a conversation.
I have to admit I hover over my dashboard. And I've seen too many proposals expire without comment or even being read. Now, I prefer a quick "no thanks." It's painless and takes the tantalizing possibility of a new client "off the table." I take comfort in the notion that it's my proposal alone that has been rejected.
But, when a client hits the button initiating a conversation, it's akin to winning the lottery. The client has already said "yes," and my job is to further the conversation. To date about 15% of the proposals have initiated a conversation, and I'm excited to report I haven't lost one yet.
There are other things to look for when deciding to send in a proposal. One of the RFPs sent to my box asked for copy "righting" services. Another asked for website construction.
Also, look for clues in the narrative, such as what I call the "kitchen sink" approach, which lists endless non-related functions as part of the proposal. I also prefer to work virtually, but there's a pull-down option for the client to ask for a face-to-face meeting. I generally skip these.
So, now that you know what to expect, you're ready for success using this platform.
Profinder is still fairly new and is free to use for the fist 10 proposals. After 10, you'll be asked to upgrade to Business Premium, after a 30-day trial period. But, as long as you have a strong profile and a method for quick proposal response, the cost of joining should be minimal. I've earned back four times the yearly cost of Business Premium with my first two clients alone.
And, LinkedIn is supporting this product. It has launched a large-scale email advertising campaign to the entire membership touting the advantages and power of professionals hiring professionals. Their ads seem to be working. Since the August launch, I've noticed a spike in RFPs, RFPs being read, and generally higher quality clients.
Once you're accepted, Profinder also has a 15-person concierge team ready to evaluate your profile or give you help or advice to make the most of the Profinder service. They also want to hear from you on what works or what can be improved.
Finally, as members of the LinkedIn community, Profinder can help you locate freelance professionals in any of the 140 specialties to support your business and growth goals. Business services, web design, photography, graphics, legal or accounting assistance have qualified professionals eager to send you proposals.
Whether you become the freelance pro or need a pro, Profinder's new tag line says it all …
The right skills. The right experts. Right now.
Let me know how Profinder works for you.
This article, LinkedIn's New Profinder Is a Service That Helps Clients Find You, was originally published by Wealthy Web Writer.

The Professional Writers' Alliance
At last, a professional organization that caters to the needs of direct-response industry writers. Find out how membership can change the course of your career. Learn More »

Published: December 14, 2016