December Issue:
Watch Movies to Write Better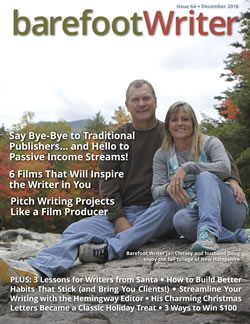 If a passive income stream through your writing sounds good to you …
Then we want to help you make that happen. That's why the team here at Barefoot Writer is stoked to unveil this month's writing opportunity.
Not only that, but we're sharing a unique way to really get a handle on the type of story structure that wins over readers and buyers. And it starts with doing the simplest thing in the world — sitting back and watching movies.
Follow that with the lucrative, wholly-independent writing opportunity we're showcasing, and passive income streams could be a very real part of your future.
You'll get all that in our December issue, along with discovering the following:
Six films that will inspire and delight the writer in you
The best non-writing habit that improves your writing
Why you can say bye-bye to traditional publishers and clients
How to pitch writing projects like a film producer
Three lessons for writers from Santa
Plus, don't miss our electrifying interview with screenwriter and celebrated crime author, Alexandra Sokoloff.
Click here now to read your December issue of Barefoot Writer.
Did you know that two of your fellow Barefoot Writers, Scott Geesey and Diane Wallace, each won $100 through last month's Barefoot Writer? If you'd like to do the same, take a minute to complete our Reader Poll (page 20) or write a short essay for our Barefoot Writing Challenge (page 19). This could be your month to win!
If you're not already a member of the Barefoot Writer Club don't forget to redeem your special invitation to join. Because the clock is ticking … and I can pretty much guarantee it'll be the best decision you've ever made for your writing career.
Here's why:
The Barefoot Writer Club offers you a community of support like no other. Because the reality is, plenty of folks out there want to make a living writing.
But too many see the writing world as a place of competition and rivalry.
Yet it's NOT.
We know from experience — after watching hundreds of writers launch successful, paid writing careers — that the recipe for success is knowledge plus support.
Without support from people who understand your goals and your drive to write, it's too easy to fail.
As a member of the Barefoot Writer Club, that kind of thing doesn't happen. You'll be part of a genuinely supportive group of people who give free advice and critiques, who applaud your successes and help you move past your hurdles.
Plus, there are other Club bonuses, like the deep monthly discounts on writing programs designed to fit your goals. You'll also get our value-packed writing opportunity reports, including The $500 Email Secret, Get Paid to Surf the Web, The Secret of the 1-Hour Work Week, and The Lazy Writer's Path to a Six-Figure Income.
Each bonus has been specifically designed to give Club Members the best information possible for getting a successful writer's life up and moving at lightning speed.
This is how writing dreams become reality … click here to learn more.

The Professional Writers' Alliance
At last, a professional organization that caters to the needs of direct-response industry writers. Find out how membership can change the course of your career. Learn More »

Published: December 2, 2016