AWAI Member Doubles Income and Achieves Copywriter Success

After Last Year's Web Copywriting Intensive this Member Doubled His Income, Landed a Retainer Deal, and Even Got Some Sweet Glicken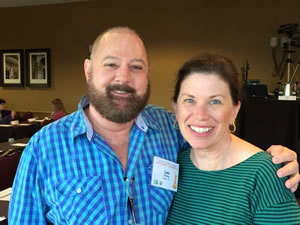 Les Worley and Katie Yeakle at the
2016 Web Copywriting Intensive
At AWAI's Web Copywriting Intensive in Austin, Texas last year, Les Worley set an audacious goal … to double his monthly income within 90 days of the event. Well, Les just sent in an update and …
"I said I'd do it by either … replacing half my agency projects with non-agency work (and thus higher rates), or doubling the number of projects I landed," explains Les.

"Turns out I did some of both. Since February, I've done a number of projects for AWAI, Barefoot Writer, B2B Writing Success, and International Living — all non-agency work. I've also been doing copy reviews for the AP. At the same time, a B2B marketing agency has thrown me even more work, including a boatload of case studies — some were even for Amazon!

"I'm happy to say I hit my goal. My billables for May 2016 were 215% of those I billed in February. That makes May my best month ever, by a big margin."
Way to go, Les! And it gets even better. While accomplishing his income goal, he also signed a retainer agreement with the agency he previously freelanced for. This is a great example of how "trying out" with a client through freelance work — and impressing them with your skills — can lead to longer-term contracts.
Les will be paid $5,000 a month for about 20 hours of work a week, writing case studies, articles, e-books, and more. If he goes over 20 hours per week, he gets to bill his client at an even higher rate. Best of all, he'll be working from home and because it's only "half time," he'll have the chance to pick up other freelance clients too.
"So, besides hitting my 'double' goal from the Web Copywriting Intensive, I'll have a recurring income as long as I keep them happy — and I will. I know retainers don't last forever, but that's okay. It's just the first one," says Les.

"Six figures? Not yet and not by itself. But even if I do nothing else besides the retainer, I'll be well over halfway there.

"Then there's my first Glicken! The company retaining me invited me to a sold-out Rangers baseball game last week. It was a team event. How's that?

"Can you believe this has all happened since I went full-time January 2015? I've worked hard over the last 18 months, but I owe so much to Rebecca and Katie and Sandy and … well, the list is too long."
The Web Copywriting Intensive will take place again this February 2017. Go here to find out how it could be the key to your breakthrough to copywriter success.
And if you sign up now, you can save $1,500 on your cost of registration AND take advantage of a convenient payment plan – only $1,165.00 to secure your spot. But hurry – this special offer ends Friday, December 9th at midnight ET.

The Professional Writers' Alliance
At last, a professional organization that caters to the needs of direct-response industry writers. Find out how membership can change the course of your career. Learn More »

Published: December 8, 2016