Four Apps Web Writers Can Use to Make Marketing a Habit
By Stacy Fox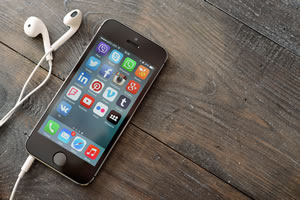 There are two types of copywriters: those who make marketing themselves a habit and those who starve … at least some of the time.
Most web writers who don't market regularly avoid it because it's too anxiety-provoking. Or they market just long enough to land work, and then they stop. When the work dries up, they fly into a marketing panic.
Then there are the web writers who have made marketing a habit. They do a few minutes of marketing every day no matter what else is going on. For them, it's like brushing their teeth; it doesn't matter how busy they get, they market. And, you know what? They're always busy!
So, how do you turn marketing your copywriting practice into a habit like brushing your teeth? You strengthen your marketing-habit muscle. One way to do this is to use an app.
Today, I'm going to review four apps you can use to make marketing a habit.
Before we get into the technology, we need to define what your marketing habits should be. Launching a website is not a habit — it's a project or a task. A habit is something you commit to do every day or every week. It should be small and measurable. Marketing habits could be:
●Send 10 warm emails to prospective clients
●Follow up with two people in your pipeline
●Call 10 prospective clients
●Send a letter to five prospective clients
●Write a blog entry
●Write a newsletter
●Contact two venues about speaking opportunities
●Write an article
Choose one to three marketing habits to focus on for maximum impact. Then use a tracking app to help you stick with your plans.
So, without further ado, here are the four habit-tracking apps I recommend:
Habit Bull – Habit Bull runs on the concept of momentum. You do something every day and try not to break the chain. Habit Bull has a beautiful calendar and interface. It also allows you to track habits you're trying to break (such as "I will not eat any cookies.").
Habitica – If you're a gamer, you'll appreciate the concept behind Habitica. This app gamifies your habit tracking. Your character earns gold each time you tick off that you did a habit, and you lose "power" when you fail to act. You pick up dragon eggs and earn the right to carry all manner of swords along the way. One feature of Habitica that I really like is that it allows you to earn gold for completing projects (like finally getting your website online), as well as tracking your daily habits.
Piggyjar – Piggyjar works a little differently than your streak apps, and it also has a social component. If you do your marketing for the day, great! Tick it off. If you don't do it, you owe a specified amount of money to the "Piggyjar." You and a group of friends are all working on separate habits, but the Piggyjar will be broken when it reaches a certain amount, and you'll use the money to do a fun activity as a group. Your goal is to do the fun activity at no cost to you. The best part about this app is that you can work on your copywriting business with people who aren't in the industry. They can be contributing to the Piggyjar for other habits they want to break, like drinking coffee or swearing.
Sessions – Sessions is set up not only to track your habits, but to also help you set aside time to complete them. You would set up your goals a little differently if using Sessions. Instead of saying, "I want to make 10 phone calls to new clients each day," you would put in, "I want to make phone calls to new clients for 20 minutes each day." The Sessions app actually keeps track of the time while you're making these phone calls and then records it as finished when the time elapses.
You don't have to use your smartphone to track your habits, but finding some method to track them is a good idea. The popular notion is that it takes 21 days for something to become a habit, but researchers at the University College, London, have found it actually takes an average of 66 days for something that takes effort to become ingrained. And, for one person in the study, it took 254 days for an action to become a habit.
Tracking your habits will help move something from where you just think about doing it to where you actually do it automatically as part of your day — like brushing your teeth.
And when marketing your copywriting business becomes as effortless as brushing your teeth, you'll have clients galore.
This article, Four Apps Web Writers Can Use to Make Marketing a Habit, was originally published by Wealthy Web Writer.

The Professional Writers' Alliance
At last, a professional organization that caters to the needs of direct-response industry writers. Find out how membership can change the course of your career. Learn More »

Published: December 28, 2016