You Know That Cliché "You Can't Teach an Old Dog?" T'aint True!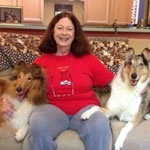 Kathy Moll
I don't really consider myself an "old dog." But I am old enough for Medicare.
I'm retired, and was looking for a retirement job to supplement my meager North Carolina teacher's pension.
Then I stumbled upon AWAI a couple of years ago. I knew it was perfect for me. What other job would allow me to combine my love of writing and my passion for animals?
If a few surgeries hadn't come up, I'm confident I would already be an established copywriter in the pet industry. But those surgeries got in the way.
Talk About "Manna from Heaven"
Because of all that, my progress with The Accelerated Program was slow going, especially Part 3.
Sound familiar?
I began the traditional Accelerated Program over a year ago (summer of 2015) but didn't finish it until September of 2016. I learned a lot, but still didn't feel 100% confident.
So, to boost that confidence, I dove into the Live Companion Series two months ago as a review before taking the AWAI Verified Test.
I quickly learned how much I had forgotten by stretching the traditional program over a year.
Famous Copywriters Speak — An Added Attraction!
Rebecca Matter and Katie Yeakle gave me such a boost. Their guests, Master Copywriters like John Forde, Clayton Makepeace, Will Newman, Pam Foster, Sandy Franks, and more, were like jet propulsion fuel!
The Companion Series was exactly what I needed.
I learned plenty through the Live Companion Series multipronged approach to The Accelerated Program.
I can see how the two would work perfectly TOGETHER … if only I had started by using both.
Soothing, Familiar Friends
The Live Companion was a huge help as a refresher. It took me six weeks to complete. Thanks to Rebecca, Katie, and their guests bringing the material to life.
Katie and Rebecca's reassuring encouragement was among the greatest benefits for me. Having the audio and visual components along with the traditional reading approach made an enormous difference for me.
Here's How I Approached It And a Solemn Promise
I took handwritten notes as I went through the Live Companion Series.
Next, I typed my written notes and printed them to study.
Every different exposure brought a revelation. Doing this, I discovered how both the traditional Accelerated Program and the Live Companion Series make learning easier by complementing each other.
I'd made a short-term goal to take the verification test last weekend.
But unfortunately, I finished all my goals except that one. (So THIS is how my students felt over my 30-year teaching career!) I absolutely WILL finish studying and will take the test this weekend. I promise!

The Professional Writers' Alliance
At last, a professional organization that caters to the needs of direct-response industry writers. Find out how membership can change the course of your career. Learn More »

Published: January 19, 2017