Understanding These 4 Types of Writing Will Lead You Faster to Well-Paid Writing Assignments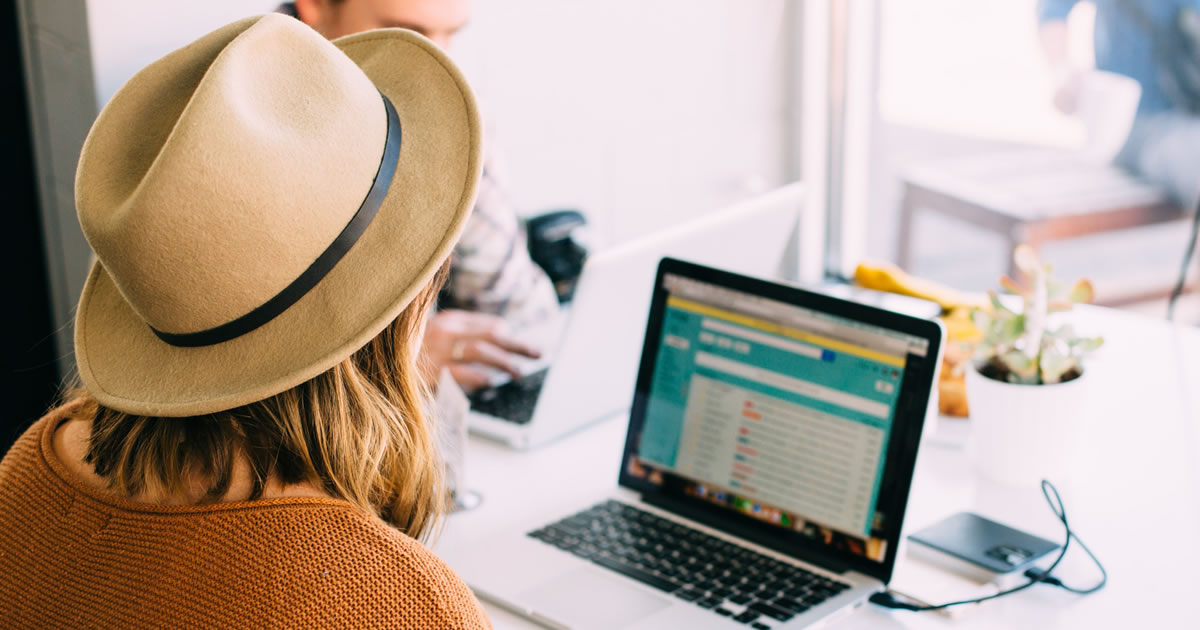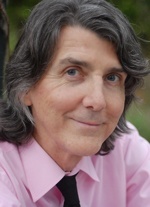 Gordon Graham
Ever since Grade 3, I wanted to make my living as a writer. I've tried writing many different things, from poetry to Pay-Per-Click.
And I've come to see that there are four main types of writing. You can think of these along a spectrum, as in Figure A.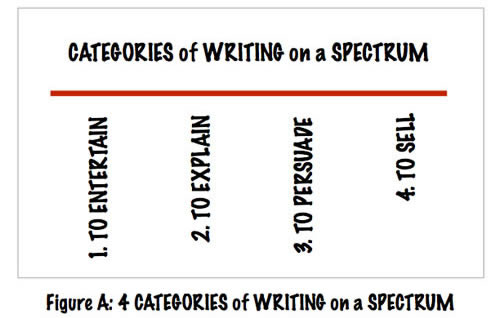 Knowing these can help you understand the market for writing, and even save you the misery of trying something you're not cut out to do.
Category 1: Writing to Entertain
Also called "descriptive" or "narrative" writing, this includes books, movies, plays, poems, songs, even jokes. Anything that sweeps you into an imaginary world — even for a few seconds, like a greeting card. Ideally, it captivates you for hours like Harry Potter or Game of Thrones.
Writing to entertain is storytelling, with lots of artistic license. You enjoy complete freedom to invent people, places, and events out of your imagination.
Most people consider this the "purest" form of writing. Many feel like they are not a "real" writer unless they're creating novels or screenplays. I used to feel like that until I learned better.
Growing up, I loved to read. If my parents took away my book at breakfast, I would read the cereal box. Maybe you did too? I studied Creative Writing in college and met some famous authors. Then I spent 10 years covering book publishing for a trade magazine.
Along the way, I learned a hard truth: Next to no one makes a living writing to entertain.
A 2015 survey by the Authors Guild showed the average full-time book author earns only $17,500 a year!?!
That was down from $25,000 six years earlier. In fact, 6 out of 10 authors have to teach, drive cabs, or do something else to pay the bills. The rest usually have a partner with a good job.
I realized I wasn't likely to make a living writing to entertain. But that didn't mean I had to give up working with words. I just had to find another way.
Category 2: Writing to Explain
Also known as "expository writing," this category is the opposite of the first.
Here, you work from research, not imagination; facts, not fiction. You're not writing about a make-believe world, but about the real world you can see and touch.
Writing to explain includes:
Reporting on events or topics (journalism, nonfiction, academic journals, government reports)
Explaining how something works or how to use it (textbooks, technical writing)
Providing tips and advice (self-help, how-to, service journalism)
I did this type of writing for many years.
For example, I wrote close to 1,000 magazine articles for everyone from accountants to woodworkers. I wrote company newsletters. I wrote scores of software manuals. I wrote case studies, those extended testimonials from happy customers.
I wrote about everything from hunting for Russian submarines to making ketchup. I was on a nonstop learning adventure, making my living as a writer.
But as much as I enjoyed it, this category doesn't allow for personality. You can't crack jokes, coin snappy phrases, or allude to pop culture. You may have a strict style guide to follow.
People don't always read this material for pleasure; they often read it on the job. And they don't read carefully; they tend to skim, scan, and skip. So your style must be lean, clean, and logical.
Eventually I got tired of writing about things, not people. So I looked for another way to make my living with words.
Category 3: Writing to Persuade
This category includes business plans, annual reports, PR, proposals, position papers, pitch decks, political speeches, slogans, and web pages.
All these are based on facts, but facts strung together to prove a thesis. The writing is more forceful, colorful, and emotional than simply writing to explain.
For example, beyond scientific evidence, you can include logic to connect the dots. You can appeal to higher principles. You can build to a stirring crescendo.
The ultimate goal is to help someone form an opinion, change their current opinion, or confirm the validity of their opinion. Doing this takes accomplished, nuanced writing. It's trickier than writing to explain.
I liked the freedom to take a position and argue for it … without having to sell anything but ideas. So I happily wrote business plans and slide decks, press releases, and eventually white papers.
In those days, all these were called marketing communications or "marcom."
You know what? My clients were impressed by how my background helped me tell their stories. The more I combined writing to explain with writing to persuade, the more powerful my pieces … and the happier I was to use some creativity.
I've been combining Categories 2 and 3 for the past 20 years, and it suits me well. I don't think I'll ever stop.
Category 4: Writing to Sell
Not everyone splits this category off from writing to persuade, but I do.
To me, this includes advertising (print, radio, TV, online display, PPC), brochures, direct mail, sales letters, sales-y web pages, and all direct-response copy … anything designed to compel someone to take action: click, subscribe, or buy.
This writing is based on the pushier elements of persuasion, including calls to emotion. To use a classic definition, it's salesmanship in print.
In terms of creativity, this is second only to writing to entertain. You can conjure up rich visions of the benefits a reader will enjoy if they buy now. But it's at the other end of the spectrum.
Anyone in the select group of copywriters who master this category can generate as much wealth as a best-selling novelist.
I've tried, but I'm no good at it. Companies surely need it, but it's not my strength. Knowing that helps me steer clear of projects that aren't a good fit for me. But it may be perfect for you.
Now that you see the four types of writing, which have you tried? Which do you prefer? What would you like to try next?
Tomorrow, I'll tell you about the opportunity of a lifetime for anyone who can write to explain, with a tinge of persuasion. It's a market most writers don't even recognize, even though it's right under their noses.

Crash Course in B2B Content
Dive into the lucrative world of B2B content writing. Expert Gordon Graham will show you the top 12 content types in high demand by B2B firms and how to complete each one like a pro. Learn More »

Published: January 23, 2017