Ben Settle Tells Why You Must Get Busy Writing or Get Busy Dying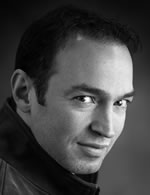 Ben Settle
Over the last 12 days, I wrote an entire novel.
(First draft.)
I budgeted myself 14 days to write it (one chapter per day, not unlike writing a daily email), but I missed a few days, wanted to catch up, started writing as many as three chapters per day, and ended up getting it done two days ahead of schedule.
This was in addition to writing my daily emails, and some other essays and articles to help AWAI with launching our 10-Minute Workday program we're doing together.
Anyway, this was the 7th (and final) book in my "Enoch Wars" series.
And, soon I'll edit the last four books (first three are already on Amazon) and publish them one by one.
Why am I telling you this?
To brag? (maybe … )
Give myself some self-props? (definitely … )
Or is it to *shame* you about not at least writing one email per day?
Yes.
That's the main reason.
There is simply no excuse for someone not to write at least one email per day designed to sell your product or service. Yes, I know you're busy (that Facebook sure cuts into the day, doesn't it?). I know you have a life. And, I know you're tired from a long day working for someone else, building *their* lifestyle for *their* family instead of your own.
I get all that.
Really, I do.
(Been there, done that.)
But those are poor excuses not to write each day if your goal is to build your own business. And when I say write, I'm talking about 15, 20 minutes, 30 at the most, writing an email designed to sell your product and sending it to your list.
We're not talking long, grueling hours here.
More:
You're destroying your own creativity by not consistently writing each day.
Emails beget emails.
Ideas beget ideas.
And, sales beget sales.
The more emails you write, the more ideas you get, and the more sales you will make (assuming you're selling an offer people want to a list with money to buy it).
Every day you don't write, your ideas are dying on the vine.
And so, to paraphrase Andy Dufresne in The Shawshank Redemption:
*** It's time to get busy writing or get busy dying. ***
If building a business and making sales is your goal, then shut off the TV, log out of Flakebook, and write an email. Doing this one thing, each day, consistently, can do more for your bank account than practically any other activity in our arena.
Yes, this is free advice.
Which is probably why nobody will value it.
But, that doesn't stop me from giving it anyway …

10-Minute Workday
If you want to be a well-paid writer without having to land clients or spend hours every day working on your business — Ben Settle's 10-Minute Workday shows you how to create an easy email business. Learn More »

Published: January 26, 2017