How to Give Your Freelance Business a Kick in the Pants
By Susanna Perkins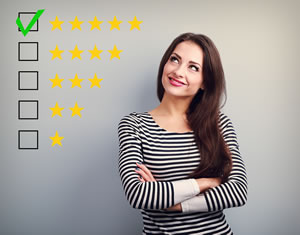 It's that time of year.
The New Year is well underway, and if you haven't done it yet, now is the perfect time to evaluate what you've done so far for your business and make plans for moving forward. If your freelance business has stalled, or it isn't where you want it to be, this is a great time to make changes.
So, how do you hit the restart button on your freelance web-writing business?
Evaluate
Before you can kick your business up a notch, you must understand where you've been. Everyone's web-writing business is different, but here are some common areas to audit:
#1. Finances
Take a serious look at your income, expenses, and profitability.
Income: List all your income sources. Which one brought in the most revenue?
Expenses: Where did you spend money in your business?
Profitability: This is the difference between what your business brought in and what you spent to run it. You can improve profitability in the future by spending less or earning more, or a combination. It's up to you to be strategic.
#2. How You Spent Your Time
As freelancers, we all wear many hats. That means you don't actually get paid for all the time you devote to your business, so you need a solid understanding of where you're spending your time.
First, for the past year, divide your total income by the total number of hours you worked. This will give you your real hourly earnings.
Then, figure out how much time you typically spent in a day, week, or month on the work you were paid for (we'll call it "billable hours," even though you don't charge by the hour), and how much you spent on administration, marketing, and other tasks.
With this information, do some thinking about how to make better use of your time going forward.
#3. How Well You Took Care of Yourself
Even though I know how important it is, I'm terrible at taking care of myself. I spend way too much time glued to my desk, I don't exercise enough, and I don't sleep very well.
As a freelancer, I know this is bad — bad for me and bad for my business. Poor diet, lack of exercise, and poor sleep limit your creativity (among other things), and we are in a creative profession. Some days it takes me a lot longer than it should to research or write, so my bad habits cost me.
Take an honest look at your lifestyle, and note where you could be taking better care of yourself. It's an important aspect to investing in your business, so don't skip it! This is an area to do as I say, not as I do. (Although I'm working on it … )
#4. What Did You Learn?
The internet is always changing, and sometimes those changes happen fast. As web writers, we can't afford to stop learning. Some learning is informal, like reading articles and blog posts that relate to our niche. Some is structured, like signing up for a course or program, attending conferences, and the like.
Ideally, you should engage in both.
#5. Marketplace Trends
What's happening in your niche? What developments and changes happened during the past year? Are there any new trends you can take advantage of to grow your business?
#6. Client Feedback
You can learn something from any and all client feedback — even complaints and criticism can provide valuable information when we're willing to listen.
Don't spend a lot of time with one-off comments/complaints, but note any areas that get consistent feedback, good or bad.
Make a Plan (or Several)
Align Skills and Interests with Marketing
Did you learn something new you want to offer clients?
What new skills did you acquire? Are you using them in your business? Have you incorporated them into your marketing?
Do your interests still align with the services you offer to clients, or should you consider a change in direction?
If you've just completed the SEO copywriting course, or you've discovered the joys of writing autoresponders, and you're excited about putting your new skills to work for your clients … let them know!
Send an email to existing clients. It's always easier to get more work from an existing client than to find a new one, so let existing and previous clients know you're now a certified SEO Copywriter, or that you're now offering email and autoresponder writing, or whatever your new service is.
Then update your LinkedIn profile, your About page on your own website, and your social profiles to include your new skills and services.
If you want to attract a new type of client, or if you've decided to drop a service you previously offered, share that information as well.
Use Customer Feedback to Modify Marketing Materials
If there were areas where you received consistent feedback, positive or negative, take a hard look. What can you learn from it?
Ask yourself if there are areas you need to improve, or skills you should market more.
If you consistently get terrific feedback on something, how can you highlight it in your marketing materials?
For any areas where you consistently received negative feedback, take an objective look. You may need to enlist some help on this from a trusted colleague. Are you really not doing a great job? Or (and I believe this is more common), are you simply not managing the client's expectations?
If the former, either work on improving or remove it from your service offerings.
If the latter, figure out the best way to make sure your clients understand clearly what you're offering, and what you expect from them.
I've created templates that I send before I start a new project, to clearly define what I'll do for the client and what I expect from them in excruciating detail. I customize and personalize each project form before I send it, but using a template ensures I cover all the bases for every project.
I still have the occasional client who asks me for tweak after tweak, but it's easier to decline graciously when I can point to a document and tell them, "I'd be happy to provide an additional revision. Since I've already given you the two revisions we agreed on, the price will be … "
Pam Foster is the master of creating processes that work, so if you want to streamline and automate your freelance web-writing process, check out some of her webinars, or articles like this one.
Allocate Your Time, Including Time for Self-Care
Take a look at the information you pulled together in #2 above. The easiest thing to fix is the time you spend spinning in circles, trying to figure out what to do next.
The solution is to create a system or a process you can stick to. It needs to accommodate administrative tasks, marketing, writing, coming up with ideas (and pitching them), self-care, and education.
Allow time to experiment until you find the right tools for you. The right tools and the right mindset can save you hours of frustration and wasted time going forward. At a minimum, you need a:
●Calendar
●To-do list
●Time tracker — even though you're not billing by the hour, you need to know how and where you're spending your time.
You can handle these old-school, on paper, or you can go digital. If you use both a computer and a smartphone or tablet, choose programs that will sync to all your devices. I use Toggl to track time, and I use two calendars — Google Calendar to keep track of appointments, and an Editorial Calendar to plan and track my writing.
I used to use Wunderlist as a to-do list, but then I discovered Trello. Trello is much more than a to-do list; it's a very visual project management program. (Check out the advanced tips and tricks here!)
You may also want an app or program to help with billing, and a place to keep your notes, files, images, and other project materials. Here's a fairly comprehensive article about setting up workflow systems.
After you've set up your processes, figure out how to fine tune your day to spend a greater percentage of your time on billable hours. Once you set up your workflow properly, you'll never have another day where you arrive at your desk wondering what you'll do that day.
Allocate some "you" time every day. Use it to:
●Exercise
●Get a massage
●Read something not work-related
●Socialize (IRL, not online!)
●Play an instrument
●Anything else that revitalizes you
Plan ahead to eat a healthy meal. (Eating at your desk is cheating!)
Set yourself up for a good night's sleep.
Increase Profits
Even though auditing finances was the first task to evaluate, I've saved it for last in the planning. That's because, when you have the other elements in line, planning for increased profits should be as simple as plugging a few numbers into an equation.
Review your:
●Real hourly earnings
●Number of hours you want to work each day/week/month
●Average number of hours you spend per project
●Average number of non-billable hours you spend on marketing and administration
●Net income (profit) you want
●Make sure you include time for ongoing education
Be realistic. If your real hourly earnings are $25/hour, and you only want to work 10 hours per week, you're not going to take home six figures. You want to stretch yourself to achieve a goal, but it must be achievable based on where you are now and changing what you have control over.
Questions to ask yourself about income
Do you have a single income source that's providing more than half your income? If the answer is "yes," it's a good idea to create other income streams. Relying on one client is comfortable, but not a great way to structure your business.
Is there one income source that's disproportionately small? Can you increase your income from that source, or are you better off ending that relationship and using the freed-up time to cultivate clients who pay better or give you more projects?
Do you have any retainer clients? If not, think about how to get some retainer deals to give you a dependable base income every month.
To increase your income, you'll need to increase your real hourly earnings, hours worked, or, most likely, both.
Based on where you are now, figure out the number of projects you'll need to land to meet your income goals. How many per month? Per week? How much time should you spend on marketing to achieve that goal?
Make a marketing plan and assign tasks to yourself using your calendar, to-do list, and project management tool. Set goals for each part of the process, and build in time to review your progress (and revise when necessary) at least monthly.
Questions to ask yourself about expenses
Are there costs you can streamline, or eliminate altogether? What are you spending money on that's not necessary for the growth of your business?
Are there areas where you can spend a little money to free up more of your valuable time for productive work? Sometimes becoming more profitable requires that you spend a bit more in some areas.
That's hard to imagine when you're starting out, but over time you'll see that bootstrapping everything yourself may not be the best use of your time and money resources.
For example, I recently started making videos for my website again. Rather than spending an hour or more of my time editing video (something I don't enjoy), I pay an expert on Fiverr to do it for me. Spending that money is a no-brainer to me. Preparing my own taxes falls into the same category — I can earn the fees for the tax preparer in far less time than it takes me to do the taxes myself, and I save myself a huge amount of frustration.
Questions to ask yourself about profitability
Usually we spend about 20% of our time on tasks that generate about 80% of our income. Can you allocate more of your work time to those? What would your income look like if you could spend 25% of your time on paying work? Strategize how to do that.
Then flip it around — where can you reduce the time you don't get paid for?
Whenever you can increase your billable hours and decrease your "other" hours, you'll improve your profitability.
Execute Your Plan
Once you've updated your marketing plan, developed processes to handle your workflow, and figured out how to improve profitability, it's time to act.
Happy reboot!
This article, How to Give Your Freelance Business a Kick in the Pants, was originally published by Wealthy Web Writer.

The Professional Writers' Alliance
At last, a professional organization that caters to the needs of direct-response industry writers. Find out how membership can change the course of your career. Learn More »

Published: January 18, 2017