January Issue: Top Writing
Opps in 2017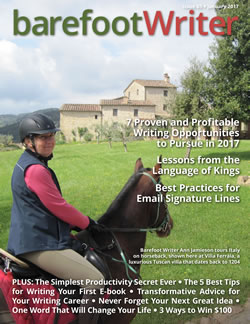 There's nothing like a new year to reenergize your writing goals — and we're committed to making sure 2017 is your best writing year yet!
Think about it … in 2017, anything is possible. After all, this could be the year you hit that major income goal. It could be the year you officially pack up and leave your day job.
Or maybe it's the year you write that blockbuster control that brings you royalties for years to come!
Whatever it is you want to achieve this year, we believe you can do it.
And to help jumpstart your progress, our January issue features our very best getting-started advice, including:
Which seven writing opportunities to pursue in 2017
How to master the simplest productivity secret ever
Best tips for writing your first e-book
An easy trick to make sure you don't forget your next great idea
Transformative advice for your writing career
We've also included a special roundup of the most energizing, motivating writing advice from over a dozen of the top writing experts we've interviewed over the years. If you're ready to kick your writing career into high gear … this is the fuel you've been waiting for!
Click here now to read your January issue of Barefoot Writer.
And what better way to start the year than with a win that gets your writing noticed? Join in on our January Barefoot Writing Challenge, and you could land a check for $100 and get published online! See page 15.
By the way, I'd like to extend a special invitation today for you to join the Barefoot Writer Club.
You'll become part of a world where you can quickly connect with hiring clients or reach out to high-earning writers for support and advice. In short, you'll be welcomed into a very special group of people who can show you what it takes to earn a healthy income as a writer, while enjoying the kind of lifestyle most people only dream about.
Plus, you'll get access to hundreds of pages of bonus resources that show you profitable opportunities in writing, like The $500 Email Secret and The Lazy Writer's Path to a Six-Figure Income.
Take the quickest route to life as a paid writer: Join the Barefoot Writer Club today.

The Professional Writers' Alliance
At last, a professional organization that caters to the needs of direct-response industry writers. Find out how membership can change the course of your career. Learn More »

Published: January 7, 2017