"A-List" Copywriter Nick Usborne Shares Why Copywriting is the Ideal Career Choice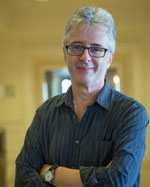 Nick Usborne
Today, I just want to tell you what an amazing thing it is to be a freelance copywriter.
I've been making my living this way for over 30 years now.
I've raised a family of five kids.
I've moved from the UK to Canada, and I've lived in four different provinces in Canada.
Copywriting has given me the income to raise my children … and spoil them from time to time. And it's been flexible and portable enough for me to work from wherever I want … even when I chose to change continents along the way.
And throughout, I've been my own boss. Which is a good thing, because I hate people telling me what to do!
Honestly … that's simply amazing.
How else could I have lived this life? As a doctor? Well, that would have given me the same income, pretty much. But I would've had multiple bosses, and I would've had to invest tens of thousands of dollars and many years to get my training.
A lawyer? Same thing. An accountant? Same thing.
In fact, I don't think there is any other profession out there that can deliver a six-figure income with such a low cost of admission — in time and money — and still leave you free to live your life how and where you want.
Well, maybe you could do the same, or better, as a movie star. But it's tough to become a movie star just by doing some training. It doesn't seem to work that way.
To cut a long story short, the online copywriting profession has been amazingly good to me. A great salary … earned as my own boss … with all the flexibility anyone could want.
I don't for a second think this opportunity has passed. Far from it. As the Web grows … and it's still growing incredibly fast … the demand for copywriters who understand how to write online will continue to grow.
This is a dream career at a time when demand is growing like crazy.
And yes, if I had to start over today, with a blank slate, I would follow the exact same advice I'm giving you … get the training and launch your career as an online copywriter.
You'll have to work hard and, above all, persevere.
But the rewards are amazing.
Your takeaway for today: Don't wait another minute … day … week … or year to start your copywriting career. The rewards are worth it.

How to Write Your Own Money-Making Websites
Learn how to write an information website in your spare time and earn $1000, $3000, even $5000 a month in passive income. Learn More »

Published: January 2, 2017