How "Writing to Explain" is the Foundation of Content Marketing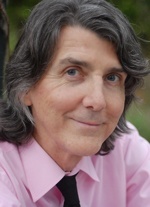 Gordon Graham
Yesterday, I explained the four basic types of writing.
Today, I'd like to tell you about a huge opportunity for anyone who can do just two of these four: writing to explain and writing to persuade. And how they could be the foundation of your writer's life.
To start, let's picture these four categories on a bell curve, as shown in Figure B.
As you know, a bell curve has more items in the middle bulge than on the edges, where the population falls off. I think this applies to our four types of writing.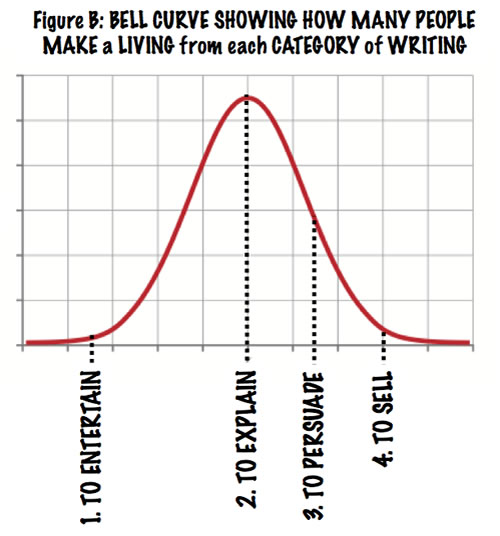 I place writing to entertain, like a novelist (pure imagination), and writing to sell, like a control-busting copywriter (pure salesmanship), at the edges where the curve flattens out.
Writing to explain and writing to persuade are closer to the middle, where they represent more people. I truly believe it's easier to make a living doing these types of writing.
Best of all, there's an explosive new market that's ideal for writing to explain with a touch of writing to persuade: content marketing.
So, what is "content" and who needs it?
The Web forced every company to become a publisher.
Every company now needs to create original content and put it on the Web for Google to find. When that content gets indexed and shows up in search results, people click to the company website to see it.
Ideally, the more visitors, the more sales. Hence, more content = more sales.
I'm talking about things like blog posts, case studies, e-books, newsletters, press releases, slide decks, speeches, and white papers. Companies need a torrent of content to show up in Google search results so prospects can find them.
And companies pay well for that content because they see it as an investment that will bring in sales. Somebody has to write it. And that somebody could be you!
B2B buyers need more information
Now, I'm talking about Business-to-Business (B2B) content.
Remember that customers come in two types:
Individuals like you or me shopping for ourselves are called Business-to-Consumer or B2C.
Businesspeople buying everything they need for their organization are called Business-to-Business or B2B.
For example, consider washing machines.
A consumer might buy one washing machine every 20 years for their home. But a cruise ship builder might buy 50 machines for every ship, and replace them every five years. Plus, a dozen coin-operated machines for passengers to use on every ship.
See how a B2B sale is many times the size of a B2C sale?
Most consumers don't want to read, they just want to shop. They might read the washing machine reviews in Consumer Reports, but that's about it.
Business buyers, on the other hand, need a lot of information before they buy.
This comes in forms like:
Case studies from customers happy with their machines
A slide deck that sums up the latest must-have features
A press release on the company's financial results
An online video that shows how to use less fresh water for washing
A white paper that offers a cost-benefit analysis on a more rugged model
It's not unusual for B2B buyers to sit on teams that take weeks or months to make a purchasing decision. Throughout that time, they will likely download, study, and debate this type of "content" from three or more different vendors.
No wonder these big B2B deals are called "complex sales."
Try this for yourself
Think of some typical businesspeople you know.
What type of information do they need more than anything else? What type of information would interest them so much they would skip lunch to get it?
How about another sales pitch?
Not likely. Most businesspeople avoid sales pitches at all costs. So writing to sell is not a big part of the B2B content market.
How about a great story that sweeps them away to an imaginary land?
Well, maybe they'll read a few pages of a bestseller over lunch. Or sneak a peek at Netflix during a break. But once that's over, they better get back to what their employer pays them to do.
These extreme forms of writing — to sell and to entertain — have their place. But not all day, every day, in every workplace.
How about something persuasive that challenges their opinions?
Well, maybe. Especially if this came in a roundabout way through reading some kind of report. How many people go to work thinking, "What I really need today is something that challenges my most cherished opinions about business!"
No, every businessperson wants something else.
Something that helps them understand a business issue, solve a business problem, make a business decision, or simply do their jobs better. We all want useful, practical tips and advice that help us on the job. Don't you?
Businesspeople crave writing that helps them understand something they need to know. Writing that gently nudges them — without overt selling — to reach a sensible conclusion or make a wise decision. In other words, writing to explain, with a careful pinch of writing to persuade.
And that's exactly what good B2B content is all about. It's content based on facts and logic and the very occasional call to emotion, sponsored by an organization that wants you to see them in the best possible light.
If you can write that way, you can write your own ticket in the exploding world of content marketing. You can excel at writing many of the forms I've mentioned here, and make a living writing everything from blog posts to white papers.
Tomorrow, I'll tell you why this market is the opportunity of a lifetime for most writers.

Crash Course in B2B Content
Dive into the lucrative world of B2B content writing. Expert Gordon Graham will show you the top 12 content types in high demand by B2B firms and how to complete each one like a pro. Learn More »

Published: January 24, 2017