How to Combine the Flexibility and Opportunity of the Freelance Life with the Security of Full-Time Work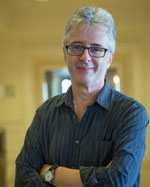 Nick Usborne
I'm sure you don't need me to tell you about the advantages of living the freelance life.
For myself, I can't imagine living or working any other way.
I love that I don't have to commute to work each day.
And I can't even imagine being told what to do by a boss or manager. I think I might react quite badly to that after 30 years or so as a freelancer!
Maybe most of all, I like being in control. I'm the boss. I'm always responsible, for both my successes and my failures.
I love that feeling of freedom. The freedom to succeed and to fail, without a boss looking over my shoulder.
All that said …
There is one aspect of freelancing that has been a source of stress over the years.
There's something employees with jobs get which we don't.
They know how much they are being paid each month and they know when the money is going to hit their bank account! Of course, they can lose that job and all the security that comes with it in a heartbeat.
But there's something to be said for knowing how much you are going to be earning this month, next month, and the month after. For one thing, it makes planning a family budget a whole lot easier.
So, while I love all those freedoms that come with freelancing, I know I have sometimes wished the income flow was a little more regular and predictable.
Ideally, I would like the best of both worlds.
I want the freedom of being a freelancer and the financial security and predictability of having a job, as an employee.
Is it too much to ask for both?
As it happens, it's not asking too much. You CAN have the best of both worlds.
Let me explain.
The key to making this work is to secure what are known as "retainer deals."
A retainer deal is what happens when a client pays you a fixed amount each month, indefinitely, for an agreed amount of work or number of hours each month.
For example, a management consultant might have a retainer agreement with a company that specifies that she works 20 hours on company projects each month, for $4,000. That would be just one of her retainer clients.
Can this work for freelancer writers and copywriters? Can we get retainer deals with our clients?
Typically … no.
Retainer deals are actually rare in this space. Typically, we get paid by project. One project as a time.
Unless …
Unless you work as a social media writer and marketer.
Here's how it works with social media marketing …
A company hires you to work on their Facebook and Twitter feeds.
They want you to write the updates and tweets, and respond to comments and questions from their followers and friends.
And once you get started, they don't want you to stop. Think about it. Once a social media stream is live, it has to be monitored and maintained on a daily basis. You can't be there one day and gone the next.
When a company contracts you to be their social media writer, you're both in it for the long haul.
And that means they'll be paying you a monthly retainer.
How much would you charge for this sort of gig?
Between $1,500 and $2,500 a month to work three different social media platforms would be typical. Let's split the difference and say the deal is $2,000.
You don't need to be massively experienced to do this. You just have to understand what your client is trying to achieve with social media.
Get just one client like this and you have $2,000 in your pocket each month, every month. That's $24,000 a year.
But one client isn't going to take all your time. So you do a little more prospecting and get another social media client. And another.
Now you have three of these clients, all on retainer, for a total of $6,000 a month … or $72,000 a year. And you're still not fully booked.
How does that sound? Not bad, right?
Your income is now predictable. You're getting the same amount coming in each month. No more wild ups and downs. No more worries.
And unless something goes horribly wrong, you'll hold onto each of those clients indefinitely. If disaster does strike and you lose one client, you'll still have the other two.
Could this be your future?
Absolutely it could, because the market for freelance social media writers is growing exponentially right now. Almost every company on the planet now understands they need to be active on social media.
And those that are already active know they need to be MORE active.
A large proportion of those companies don't have the resources, capacity, or experience in-house. So they look outside, for freelance social media writers like you.
And pretty much every deal you make will be a retainer deal.
If I were just starting out as a freelancer myself, I'd definitely focus on landing a few social media retainer deals.
Even if you are already established and working in some other areas, two or three social media clients will even out your cash flow and boost your annual income.
For any writer who wants to build a stress-free and highly-profitable freelance business, this is the perfect way to make it happen.

How to Make Money as a Social Media Marketing Expert
Everything you need to know to become a social media marketing expert, as well as four different ways to make money using that expertise. Learn More »

Published: February 20, 2017