How to Use Your Website to Grow Your List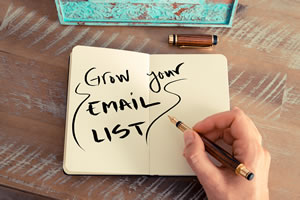 Your professional freelance writing website is one of the most powerful tools in your marketing arsenal.
It gives your prospective clients a way to find you in the first place. Without a website, they might never hear about you and the services you offer.
It gives you a place to send people you meet who look like a good fit for your services. Your site can quickly make the case that you're a good writer, you're a professional, and you're someone they can trust with their writing needs.
It gives you an opportunity to establish yourself as an expert in your industry and to actively and regularly demonstrate that expertise through the content you publish on your site.
The question is … are you using your website to actively grow your list? Or, are you just trusting that the people who find your site are ready to buy and will reach out to you if they decide to secure your services?
How much more powerful would your site be if, instead of offering just one point of contact with a prospect, it gave you a way to stay in regular touch, to nurture each connection, and to put you and your services at top-of-mind whenever your prospect needs a writer like you?
Turning your website from an online brochure into a dynamic hub that builds connections and relationships is an important step to take in building your business. And, it really comes down to leveraging your site to build a list of interested, potential prospects … the people who have a high likelihood of deciding they want to hire you … and whom you would be delighted to work with.
The First Step Is to Focus Your Site on Your Audience
If you want to start attracting traffic to your site, you need to give them a reason to come. That reason is going to be content of one kind or another. It could be a daily or weekly blog … a podcast … a webinar every other week … industry case studies … infographics summing up industry research … or quick tips delivered through video.
Or, any combination of these (and other) options.
One thing needs to be consistent. You need to create content that will appeal to your target audience.
Most writers tend to write about what they know on their professional freelance website, which means they end up writing about writing. Take a step back and think about the questions your audience has about how to use writing to grow their business. And then, make those topics the ones you cover on your site.
Step Two Is to Get Serious About Your Content Marketing
If your content marketing is a flash in the pan — you publish a bunch of posts and then peter out — it won't work.
If you only publish when inspiration strikes you, you'll struggle.
You need to get your content marketing on a consistent schedule. And, you need to deliver unique, useful, and entertaining content that's ultra-relevant to your target audience.
I recommend you use an editorial calendar to help you stay on a regular publishing schedule.
And then, start generating a growing list of ideas for content. Think about:
Questions you receive from clients or hear people asking in industry-related social media groups.
Interviews you can do with people of interest in your industry.
Case studies—either of your own clients—or dissecting marketing strategies you see working for companies in your niche.
Marketing ideas that are working in your industry right now.
Surveys. If you have a client list, you could survey them about their marketing strategies, their most pressing problems, their marketing spending … all things that can point you in the direction of unique and useful content ideas.
Next, You Need to Give Them a Reason to Sign Up
When people come to your site, you need to give them a compelling reason to join your list so you can stay in touch with them and nurture the relationship.
The standard offering is a useful e-report. And that's fine. It's the standard, because it works. But, you can also look at this as an opportunity to let your professional personality shine through … and that means it's okay to get a little creative with your lead-generation tools.
You could invite people to a webinar … offer a video series … or send out an autoresponder, a downloadable e-book, or a cheat sheet to help them figure out the marketing methods that make sense for their audience. Use your imagination and create something that's irresistible and that highlights your expertise.
When You're Ready (or a Little Before), Start Testing Paid Advertising
Pay-per-click advertising is a proven way to grow your list. So, once your list starts to gain some traction organically, and you start to see some client conversions happening that you can attribute directly to your list, it makes sense to start investing in list growth.
Take the best of the best and start testing paid advertising.
We have a very good pay-per-click tutorial that will help you see how to start doing this for your own list.
Go for the Conversions
One final note on using your website to build a list — once you have a list, make sure you ask for the sale. Maybe not in every message, depending on the type of email marketing you're doing. But, at least some of the time.
Some people end up with a list they send content to, but they never promote themselves. That defeats the purpose of your list as a business-building tool.
Ask your readers to become clients on a regular basis. Make it part of your mailing calendar.
You can promote your services directly, or you can sell a product like an e-book you've created or a subscription to a monthly newsletter.
A well-built list is a proven way to grow your client base and your income. It also opens up a bunch of opportunities to create additional income streams. And overall, it just makes your business more financially secure and stable. So, put that website to use, and start list-building today!
This article, How to Use Your Website to Grow Your List, was originally published by Wealthy Web Writer.

The Professional Writers' Alliance
At last, a professional organization that caters to the needs of direct-response industry writers. Find out how membership can change the course of your career. Learn More »

Published: February 1, 2017