5 Ways to Know You're Ready to Jump to a Full-Time Career in Copywriting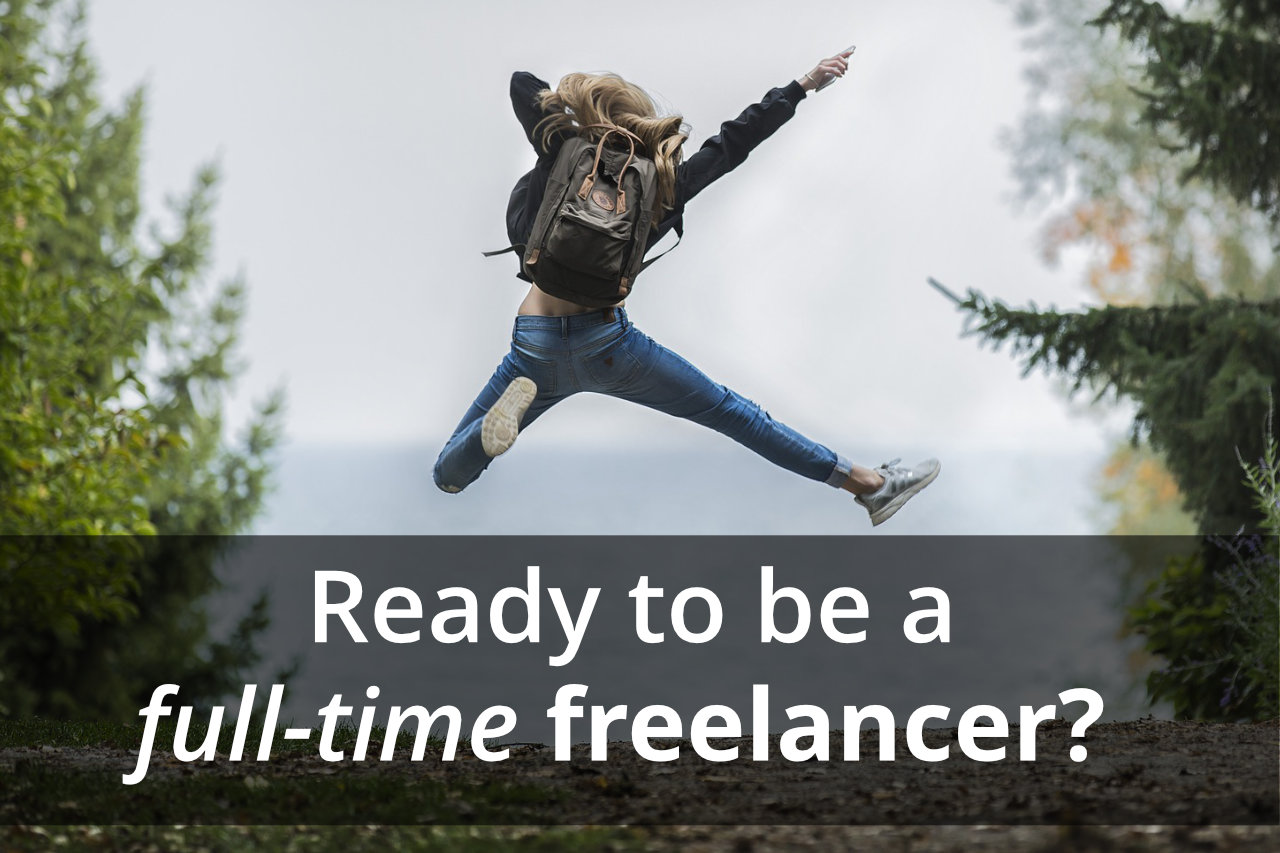 I'm already at that place in life where I forget things. I worry about locking myself out of the car, forgetting my plastic money, or any of a half dozen things. I eliminate worry simply by repeating my list. Before I leave the house, I recite, "Wallet, watch, keys, cell phone, ring."
Lists and processes are good. As both a copywriter and a financial rep, they've saved my bacon not only with clients and my wife, but also with FINRA, the SEC, and the IRS.
And when you're dreaming of leaving your J.O.B. (just over broke), lists and processes can be a big help. But how do you use them to launch into the unexplored waters of making a copywriting career your sole source of income?
For that purpose, I've listed five areas I want you to examine so you can gain confidence in your decision. Please, please, don't feel overwhelmed!
This is a process, just like studying AWAI's Accelerated Program for Six-Figure Copywriting. At first, it may seem too big. But as you work through it, you'll see you already have many of these things in place. You can do this!
You're Ready to Make the Jump When:
1. You Have a Working Marketing Plan
The two key words are "plan" and "working."
Forty years ago, I managed a bookstore. Brick-and-mortar, remember those days? People would first come to me in the store and then I found their need and met it.
As a freelance copywriter, the situation is reversed. You are the one who, at the beginning, has to go and find those who need your skills and figure out how to meet their needs.
First, look at your marketing "plan."
Does it include exactly how you intend to find clients? Include meaningful specifics instead of vague generalities.
Just putting up a website alone won't get you the clients you need. How will you draw people to that website? A few powerful ways are writing articles and blogging with links … or speaking at local conferences and clubs and handing out business cards with your web address displayed.
Do LinkedIn or other professional sites have a role to play in your marketing?
Where will you find even more prospects?
Secondly, let's scrutinize the word "working."
Is your marketing plan drawing in clients today so you have proof that it's succeeding for you? List out all your new clients from the past six months.
Is every part of your marketing plan running smoothly? Be honest with yourself. Write down how long it's been running that way.
How much time does your marketing take? If your marketing requires 30 hours per week, when will you write?
Ideally, your situation is where prospective clients call you! Until then, can you do outbound sales calls and fill up your schedule?
If you need help, try these informative free articles:
Put Together a Marketing Plan in Seven Days
Set Up a Marketing Plan that Works for You
Get Paying Clients with a Free LinkedIn Profile
2. You Have a Proven Sales Record
Have you mastered the live sales conversation with new clients? Role-play in your mind the last three. Take pleasure in how you are progressing.
How long does it take for you to move from first contact to signed contract?
How many months in a row have you been able to bring home signed contracts? You eat every month; therefore, you need to get paid every month. Or … maybe you get paid so much that you only need to work two weeks out of every month! As Eliza Doolittle sings, "Wouldn't that be loverly!?"
Here's another question. Can you say no to toxic clients? Those who suck up your time with little to show for it? How fast can you detect one? Can you do it before the contract is signed? This can be a fun conversation with other copywriters on Facebook or AWAI's member groupsites.
For help on sales:
Marketing Basics: Closing the Sale and Asking for More
3 Signs That Your Trees Need Trimming
3. It's No Longer Just a Hobby
Have you made a firm commitment to go full-time in your new chosen profession? You can see yourself moving from the part-time (I can take it or leave it) mentality to being a professional. Everything you do from now on — excepting your family and your copywriting career — flips and becomes what you do in your spare time.
Have you set up your money tracking like real businesses do? It can be simple. Or someone else can be hired to do it.
Are you aware of the legal ramifications of running your business? What about required healthcare insurance for small businesses? What other kind of insurance should you have in place? Business taxes? With which professionals have you discussed these topics? In the multitude of advisers, there is safety.
Professionals also look at timing. To transition to your new career in copywriting, you must give yourself at least six weeks to set up new habits. Don't plan things during this time. For example, going pro just before the year-end holidays can foul up your new habits.
To appear more professional:
How to Be a Professional in the Eyes of Your Clients
4. Your Finances Say, "YES!"
Desperation is not a good work environment for anyone. Is your part-time copywriting bringing in enough cash monthly? I suggest at least 75% of the take-home pay necessary to keep you afloat. Pull out your past year's profit-and-loss statement. Roll it up and use it to smack away those doubts when they whisper that you can't do it!
Do you have four to six months' cash tucked away in an interest-bearing account? The goal is not to touch it. It exists to help you sleep at night.
Can you make the jump without loading up your credit cards? Thirteen percent interest is a rather stiff penalty when you are just starting out.
5. You've Had the Crucial Conversations
This is one of the most overlooked parts of preparation.
Do you have a support group? Have you let them know of your plans? Associating with other copywriters can counter the negative voices in your head. Not everyone needs that group encouragement, but many are more comfortable knowing there is a place they can go to bounce ideas or hear about other writers' successes.

Remember what the science fiction author Spyder Robinson said. "Joy shared is joy multiplied: sorrow shared is sorrow divided (and reduced)."

If you hold a job now, have you given your notice and allowed your boss to wish you the best? Can you leave your (nasty) old job with your head held high or is there bad blood between you and others? This is baggage you don't want to bring with you. Take time to clear the air, if possible.
But what if they don't wish you well? You are not responsible for how they react. This world is filled with an abundance of those who wish they could reach for freedom — but do nothing. You are growing, they resent it, and they would rather pull you back down to their level. Can you deal with negativity? Accept that some people will never be happy and move on.
Have you had the conversation about going full-time with your spouse or partner? Is he/she supportive or will they be an anchor holding you back? Obviously, it's better if they support your plans. What will help them be more comfortable with this change?

Have you sat down with your kids and explained that family time may be short while you ramp up production? Have you told them it's only for a little while? Bring them into the excitement of being able to follow your dreams. Assure them that when you reach your pot of gold, they will be there with you to enjoy it.

Have you had a conversation with yourself? Ask yourself two important questions.

First, how have you handled the fear factor? Everyone experiences it in one form or another. If you still get paralyzed (not just uncomfortable, but frozen), will you delay going full-time and deal with it now? Otherwise, you may be trading valuable production time to sitting on your hands or doing "busy work" (aka avoidance).

The good news is that seeing money come into your bank provides one antidote for any remaining fear.

Second, ask yourself, "If I have not taken care of most of the issues above, will I wait?" Do you have the patience to do it right? Don't rush this. As John Wooden famously said, "If you don't have time to do it right, when will you have time to do it over?"
See also,
How to Face Your Fears and Find Solutions
Why You Can't Rush Your Success as a GREAT Copywriter
If you've checked everything off these lists, you should be ready to launch your career in copywriting!
Beginning your copywriting career is one of the greatest adventures of your life. Follow the processes outlined here, and you'll set yourself up for long-term success. Done right, owning your own copywriting business can give you both the time freedom and the financial freedom that puts your life in your own control. And that's where it belongs.
Editor's Note: Eric Borger is an AWAI member and owner of Bridge Builder Marketing LLC in Portland, Oregon.

The Professional Writers' Alliance
At last, a professional organization that caters to the needs of direct-response industry writers. Find out how membership can change the course of your career. Learn More »

Published: February 1, 2017