"No Commute … Working in My PJs … Lovin' this Life."

AWAI Member on Track for Major Retainer Contract for His Ideal Copywriting Job Thanks to Smart Networking
>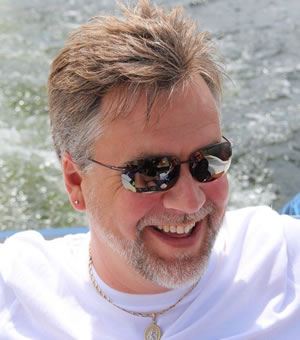 James Burchill
James Burchill just got a heck of a copywriting job offer: a monthly four-figure retainer. If he takes the job he'll be working from home, writing email sequences, newsletters, and doing general copy reviews as needed.
He's psyched about this new opportunity.
"I get paid for playing … I once explained to a buddy that writing isn't so much something I do, it's more like something I am. The gaggle of voices inside my head (my writing team — lol) are constantly churning out content for me … all I have to do is keep up and write it down ;-)," says James.

"The training I've received from AWAI and other schools over the years has refined my ability for sure, and I'm very happy I can make money doing something I've been passionate about since I was a kid.

"I enjoy showing people how to connect and communicate more effectively and the retainer client wants me to do just that: show them how to streamline their lead capture and conversion using copywriting techniques and marketing automation systems (email autoresponders, messaging bots, etc.)."
This new copywriting job didn't come about by accident. James has a methodical — and effective — approach to self-marketing. For five years, he's organized monthly B2B company networking events for small businesses in his community. About 100 businesses attend each meeting.
"I have their permission to communicate via email with them … and by definition SHOW THEM MY WRITING CHOPS. This approach to shooting fish in a barrel meant I not only had permission to write/email all these businesses, I could help them connect with each other and DEMONSTRATE and TEACH them how to better use words … and in this case, my services," explains James.

"So basically my cunning plan for local marketing is to be the guy that connects the others and helps them communicate what makes them special. When they learn I'm a B2B writer and copywriter (and three-time best-selling author: Evernote Exposed, Meetupology, and Niche Surveyor) they usually contact me at some point."
This new retainer client was part of this business network, and actually contacted James with the job offer. As he planned, they'd seen him in action, had writing samples in hand, and knew he could do the job.
James loves his writer's life. He enjoys writing and the lifestyle that comes with being a freelancer. He travels and works from the road, including stints in Thailand and the U.K. And he hopes to set up his writing business so that he has enough royalty payments coming in — from copywriting projects and sales of his own products — to live well on this residual income.
"FREEDOM is the goal … freedom to choose. Freedom to decide. Freedom to simply be," says James.
A predictable writing income makes the move from a full-time job to the writer's life much easier — and safer.
And that's where retainer deals come in … steady writing projects — and paychecks — you can count on month after month.
Check out the best retainer deals for writer's today.

The Professional Writers' Alliance
At last, a professional organization that caters to the needs of direct-response industry writers. Find out how membership can change the course of your career. Learn More »

Published: February 22, 2017