Social Media Writing is the Gateway Gig to a Lot More Work with Every Client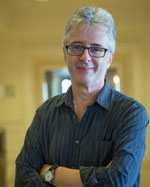 Nick Usborne
What's not to love about working as a social media writer and marketer?
Whichever way you look at it, it hits all the right notes.
First … being a good social media writer really isn't very hard.
You don't need to learn a zillion tips and techniques, or struggle to hold your reader's attention for more than a few seconds.
To put it into context, being a long-form copywriter and holding a reader's attention for page after page of sales copy is challenging. But being a short-form social media writer — writing 140-character tweets and 70-character YouTube titles — is a piece of cake.
It's not hard at all. You just need to know how to write in short, conversational snippets of text, and be responsive to your audience when they write back.
Second … social media is the gig that keeps on giving, month after month.
I wrote about this in my last post.
Once a company commits to being there on social media, they have to be consistent. They must be active on their social media channels every day.
Most companies don't have the in-house resources to do that, so they reach out to freelance writers like you to handle their social media needs.
And because it's an ongoing, open-ended gig with no end date, they can't pay you "by the project." Instead they pay you a monthly retainer. Every month. On the dot.
Third … social media provides the gateway to a ton of other work with each client.
This is the topic I want to focus on in this post.
When you become a social media writer and start picking up clients, your life as a freelancer gets a whole lot easier.
To begin with, your stress levels go way down, because you're getting those recurring payments each month.
On top of that, you'll suddenly discover that being a company's social media writer really is a gateway to getting your hands on different types of writing projects with them.
Let me show you how this works …
Example #1 …
When you're creating updates and tweets for a client, you'll often find yourself writing about and promoting the latest web content your client just published.
Maybe your client just put up a post about their latest instruction class on painting with oil colors. Part of your job for the day will be to link to that page of content on Twitter, Facebook, and elsewhere.
And you'll be right there, watching people's responses to that update, and replying to their questions, one-on-one.
Over time, you'll develop a deep insight into your client's content marketing efforts, and their company overall.
Unlike others in the company, you'll get into conversations with their prospects and customers through social media. You'll be interacting with them.
Also, you'll be accessing tracking and analytics tools that give you insights into how well various types of web content performs.
You'll see which content drives the most click-throughs and Likes from Facebook, and which generates the most replies, retweets, and Likes through Twitter.
In other words, after a while, you'll know better than anyone else which kinds of content work best and drive the most engagement.
At that point, you can turn to your client and say something like, "Hey, I just wrote up a two-page report on how to optimize your content marketing efforts. It identifies which types of content give you the most traction on social media."
Once you have impressed the heck out of your client with that report, you follow up with, "Given my intimate knowledge of what works best for you, would you like me to start writing some of your web content?"
Boom … you just landed yourself some new work, in addition to your existing social media retainer deal.
Example #2 …
Something else you'll be doing for your clients on social media is helping them feed their sales funnels.
When they are running a big promotion, launch, or sale, they'll turn to you to help them get the word out through social media.
You'll be grabbing people's attention through the client's social media channels, and driving prospects directly to a sales or subscription page.
In other words, you are taking a lead position in helping them drive sales.
More important still, you're also listening to and responding to people through each social media platform. When people have questions about a product, service, or promotion, you are the one who delivers the answer.
Once again, over time, you become the person who truly understands not only the company's products and services, but also their customers.
You get to understand what those customers really want. You get a real sense of what works and what doesn't work.
And, as always, you'll have access to tracking and analytics tools that tell you exactly how well a given social media campaign is doing.
Now, you do the same as you did when you picked up those content-writing gigs.
But this time you focus on their sales campaign.
You write up a two-page report, wildly impress your client, and then suggest they use you to write their sales emails, landing pages, or sales pages.
And why not? You are a trained copywriter with unique insights into their prospects and customers.
Fourth … social media is growing like crazy!
As I mentioned earlier, I wanted to use this post primarily to explain how you can use social media writing as a gateway gig to getting other types of work with your clients.
But … before I go, I want to mention one more thing.
The business opportunity for social media writers and marketers is growing like crazy right now.
Here are some numbers for you to wrap your mind around …
Social media advertising budgets have almost doubled worldwide over the last two years — growing from $16 billion in 2014 to $31 billion in 2016.
This year — 2017 — that figure is projected to be well over $35 billion.
We're looking at phenomenal growth rates.
And here's the thing … companies are simply not prepared to do what it takes to win with social media.
They know they have to. They know it's urgent. But they don't have the people or resources in-house to make it happen.
That's why literally millions of companies in the U.S. and around the world are reaching out to hire freelance social media writers and marketers.
They are desperate to find you.
Your task is to get the training you need to give yourself the confidence to raise your hand!

How to Make Money as a Social Media Marketing Expert
Everything you need to know to become a social media marketing expert, as well as four different ways to make money using that expertise. Learn More »

Published: February 21, 2017