If This "Dunce" in School Can Become a Master Social Media Copywriter, So Can You

Will Newman recently sat down to interview Nick Usborne and learned quite bit about this pioneer of web writing that he hadn't known.
Check out the full interview below …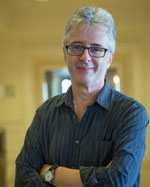 Nick Usborne
WILL: Tell us a little bit about yourself so our members can get to know you.
I grew up on a farm in the south of England. I started off pretty slow in school. I was a bit of a dunce for the first five years. Then I began to bloom, and I did pretty well in the second five years. My principal challenge in school was that all my teachers thought I was an idiot where actually I wasn't.
So, it took that first five years to actually rise above the nonsense of nobody believing I could do anything. But I did, and it worked out fine.
I actually did well enough in my secondary years to secure a place at Cambridge University. I guess in the U.S. that'd be the equivalent to getting a place at Harvard.
But I didn't go. I decided I'd had enough of schoolwork by then. So, I went to work in a quarry in the southwest of England where I was breaking rocks, cutting stone. Then in the evenings and weekends, I'd work with my boss on carving. Basically, we were doing restoration work for churches and cathedrals. That was cool.
WILL: What are your favorite books? Hobbies?
I have dozens of books on copywriting and on gardening. I read all kinds of books: books on philosophy, books on quantum mechanics, or books on science stuff. I'm a bit of a science nerd.
I'm an art nerd. A science nerd. I'm an outdoors nerd as well. I like kayaking, cross-country skiing, cycling, or walking. And before becoming a copywriter, I wanted to be a sculptor since I was about 13. So, I dabble in that.
WILL: That brings up a good point. What made you decide to get into copywriting?
My dad told me to get a proper job! [Nick laughs.]
I shared a house in North London with some friends. There was a guy there who had a job in advertising. He clearly seemed to enjoy it. I asked him if it was exciting. He said, "Sure, it's fun."
So, I decided to try it. I got a job as a management trainee at an ad agency and worked my way through the departments. Then I got to the creative department, and it was love at first sight. I said, "Hey, I'm going to be a copywriter. I love this stuff." And that was that.
WILL: You were one of the first copywriters to see an opportunity writing in the Internet. Did web writing seem like a "sure thing" back then? Or were you nervous about going in that direction?
I'm not sure I even thought of it in those terms. I just found the Web to be a fascinating medium.
And to be honest, I was getting a bit burned out on regular offline copywriting. I'd written, I don't know how many hundreds of direct mail packages by then. Truth be told, I was bored.
So, the Web comes along. Totally different. And in a way, it suits me better because I've always been more comfortable as a conversational writer than I have been as a hard-core sales copywriter.
And that really fits the Web. So, what made me decide to do it? Because it's fun.
WILL: What were some of your early challenges as a pioneering web copywriter?
The first challenge was this. Every possible job started off with me trying having to educate and persuade prospective clients.
Back in 1998, it wasn't like every client automatically said to me, "Oh, yes, Nick, we know we need a website. And we know it needs to be done using best practices."
Quite the contrary.
I was up against companies saying, "We really don't need a website." Or, "Hey, we've got our website. We know you say it's not very good and not using best practices. But we don't understand what you're talking about. And we don't want to work with you right now."
So, I had struggles that online copywriters today don't have in that I had to educate clients as to why they should even take web writing seriously.
WILL: You've now expanded your copywriting services into social media. Why did you do that?
Well, I think in part it's the same answer as before. It has that very conversational element.
The Web has always been a two-way medium, not like TV. In TV, an advertiser speaks at you. You can't speak back to them through your television set.
Online, we can have conversations back-and-forth. Not that companies take much advantage of that.
So, I love social media simply because I've always viewed the Web as being social and conversational. In a way, we've just been waiting for technology to catch up. The Web's always been social, but the technology was not very good at making it social until the rise of social media and mobile devices like smartphones.
WILL: What sort of opportunities do you see for our readers in social media? Why would they want to try?
Simply because it's not like the next big thing. It's been around for several years now.
When something is new, it's often hard to sell it to prospective clients like me with the Web back in 1998.
Social media is becoming the "sweet spot" right now. It's been around long enough for every company to understand they need to do this. They need to be more social with prospects and customers. We aren't at that stage where you must do a huge amount of educating and persuading for clients to get serious about social media.
At the same time, hundreds of thousands, maybe millions, of companies out there right now know they should be using social media more. But either they don't know how, or they know how but don't have the resources in-house to do it.
They're looking for outside contractors to make it happen for them. Social media copywriting is at this wonderful sweet spot right now where suddenly every company on the planet realizes they must get into social media.
But at the same time, they don't have the resources to do it.
WILL: What do you feel is your greatest success in copywriting?
I'd say my biggest success in copywriting is it giving me the freedom to raise my vast family. And it can do that for your members, as well. Particularly, the sweet spot of social media right now.

How to Make Money as a Social Media Marketing Expert
Everything you need to know to become a social media marketing expert, as well as four different ways to make money using that expertise. Learn More »

Published: February 17, 2017