Clients Will Hire You Over and Over Again if You Know This One Secret of Copywriting
By Sandy Franks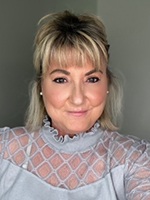 The skill that makes your copy stand out
The master of BIG Ideas
Big Ideas aren't complicated
When Big Ideas go mainstream
Getting your copy skills up to speed
​Let's start with a quiz …
Which one of these skills is guaranteed to make your client pay you handsome copywriting fees and hire you to write most all of their sales promotions?
1. Your great writing skills
2. Your ability to create strong, attention-getting headlines
3. Your research skills are out of this world
4. You're intimately familiar with the six different types of leads to use in a sales letter
While all of these will give you a definitive advantage, there's one skill in particular that will catapult you to the ranks of an "A-list" copywriter and it is all about the BIG IDEA. In fact, in my humble opinion, Dear Copywriter, it's knowing how to come up with a Big Idea that will make you a richer copywriter.
I say that because in my 30 years in this business, I've worked with all levels of copywriters from beginners and advanced to top "A-listers." And what separates the "A-listers" from all others is they know how to come up with the Big Idea.
Knowing how to come up with the Big Idea is what will make your copy stand out. But it's also the very thing that trips up most aspiring copywriters.
You probably know what I mean. You land a writing assignment with a client. You spend hours, days, and weeks working on the sales copy. You polish off your final draft and send it to the client, eagerly waiting for their response.
When they get back to you with comments, you hear "It's not quite right. Needs work. It's just not compelling."
When you hear those types of comments, it simply means the Big Idea is missing. While you had an idea in mind as you were writing your copy, it just didn't meet the benchmark of a Big Idea. So let's talk about what makes a Big Idea stand out.
I consider myself lucky because I was fortunate enough to work with a master of coming up with Big Ideas, Bill Bonner. He's the founder and owner of Agora, Inc., the largest newsletter publishing company in the country. They went from a small company of just 20 employees back in 1987 to now close to 2,000 employees worldwide with annual sales over $500 million.
Bill is the kind of guy who lives and breathes Big Ideas. A copy meeting with him wasn't about the words on the paper but about the Big Idea. You knew you pitched an idea that wasn't good enough when his response was, "I just don't get it."
I'm telling you this so you understand Big Ideas aren't complicated. Yes, they are well thought out. Yes, they capture your attention, but they are also simple.
How do you drill down to come up with a Big Idea? Bill had a clever "show and tell" way of explaining where Big Ideas live using a bell curve. If you aren't familiar with a bell curve, it's used in statistics. It's an easy way to show how the distribution of responses fall on a curve.
Don't worry, Dear Copywriter, this is not a lesson on statistics but it will help you understand the power of a Big Idea. On a white board, Bill would draw a bell curve similar to this: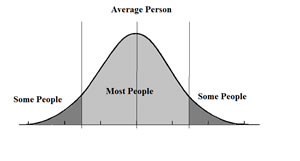 The two areas on the end labeled "Some People" are called outliers. This is where Big Ideas live. They are tipping point ideas. I'm talking about ideas that aren't in the mainstream media. They feel new to your prospect … something they haven't heard before. Or as AWAI's VP of Marketing and Sales, Helen Buttery explains, "They are unique. They are memorable. They make you say WOW."
The neat thing that happens with Big Ideas is that although they start out in the outlier zone, as they catch on with your target audience, they move to the middle of the curve.
When that happens, for you as the copywriter, it means the sales letter you wrote for your client is working really well. Your client is mailing to thousands of prospects with great success. Their sales are going through the roof and your royalty payout is BIG.
But a word of caution. When the Big Idea moves into the middle of the curve or more mainstream, then it's no longer big. As more people know about it and talk about it, the idea becomes ordinary. And then it starts to move toward the other side of the curve. That's the point in time, when your job, Dear Copywriter, is to come up with another new Big Idea.
Your takeaway for today: Never write a single word of copy until you've figured out the Big Idea. And when you do, make it feel new and unique to your prospect.

The Professional Writers' Alliance
At last, a professional organization that caters to the needs of direct-response industry writers. Find out how membership can change the course of your career. Learn More »

Published: March 6, 2017