Your Freelance Writing Career Depends on this Golden Moment … And You're Probably Missing It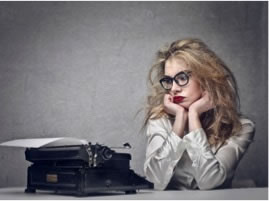 When I began my freelance writing career, I struggled with distraction. Sometimes I'd do just about anything to escape the keyboard. Laundry, Facebook, scrubbing the toilet — everything seemed more important and appealing than my copywriting project. I was convinced I was lazy.
Then I began to notice the need to escape always happened when I didn't know what to say next. Or how to make that headline work. Or when my writing wasn't flowing.
When I didn't know what was next.
If this is happening to you, the good news is that it doesn't have to derail your freelance writing career. In fact, it might help your writing take off like never before — if you know how to harness it.
The Golden Copywriting Moment
If you're anything like me, that moment of uncertainty comes with a bit of panic. Or frustration. Or impatience. And none of those feelings are pleasant. All of them make you want to go do something else. But if you give in and run away, you miss the Golden Copywriting Moment.
Because that icky, uncomfortable place is the soil from which great things grow. That's why I named it the Golden Copywriting Moment — sounds much more appealing than "distracted and lazy."
That "not-knowing," "floating-between-ideas" place is where the ideas come from. It is the Golden Copywriting Moment. It's not just something to get through … It's the fuel that launches the rocket. And every time you abandon it, you have to come back and start over.
Think about that … When you feel stuck, it isn't just about getting through it … It's about throwing yourself fully into that moment. Learning to love it … to get excited about it … Because that moment is what will grow copywriting fruit.
But first, you have to learn how to spot it.
Learning to Recognize the Golden Moment
Before you can start to really use the Golden Copywriting Moment effectively, you have to learn to recognize it. It's going to be some form of distraction, judgment, or doubt. It can be sneaky, so you have to be a bit of a detective.
Start paying attention to your habits when you're writing. Next time you want to go check Facebook or make a cup of tea, stop. Ask yourself what was happening right before that moment. Were you stuck? Blank? Frustrated? Lost?
You have to get to know your own escape triggers and your distractions of choice. Yes, you have to pay your bills … But do you suddenly have to pay them right now? If not, you're running away from a Golden Copywriting Moment.
So what might happen if you stick it out? If you hang in there and keep writing, even when you feel like you have webbed fingers and pudding for brains?
E. L. Doctorow, J. K. Rowling, and Your Freelance Writing Career
E. L. Doctorow used the Golden Moment to overcome crushing writer's block:
… With Ragtime, I was so desperate to write something. I was facing the wall of my study in my house in New Rochelle and so I started to write about the wall … Then I wrote about the house that was attached to the wall … One thing led to another and that's the way the book began: through desperation …
Ragtime is one of my favorite books. And it exists because a desperate E. L. Doctorow didn't go clean house when he couldn't figure out what to write about. Instead, he wrote about what happened to be in front of him: the wall.
That's what can happen when you don't run away from the Golden Moment.
Harry Potter author J. K. Rowling used the Golden Moment to find the magical device that decides which house a new Hogwarts student will be in.
I debated several different methods for sorting students … The first was an elaborate machine that did all kinds of magical things … but I did not like it … Next I placed statues of the four founders in the Entrance Hall, which came alive and selected students … Finally, I wrote a list of ways in which people can be chosen: eeny, meeny, miny, moe, short straws, chosen by team captains, names out of a hat — names out of a talking hat — putting on a hat — the Sorting Hat.
Rowling rewrote the section over and over to find her Sorting Hat. We wouldn't have that magical device if she'd walked away from the Golden Moment.
Whether you're writing the next great novel or the next great sales letter, learning to navigate the Golden Moment will transform your freelance writing career.
And all you need to do is follow Dory, the star of Finding Nemo …
Just Keep Swimming!
Dory's motto? When life gets you down, just keep swimming!
E. L. Doctorow and J. K. Rowling understand when the page gets you down, just keep writing.
Even if all you can think of to write about is the wall.
Even if you have to rewrite the same section half a dozen times.
Just keep writing. Great novels are born that way. So are great freelance writing careers.
Your Mission: Jump into the Void!
Changing your relationship to the Golden Copywriting Moment is easier than you might think. Here's my step-by-step method for growing freelance writing gold:
Controlling Your Control Freak — Being uncomfortable with "not knowing" is a symptom of wanting to control everything. But jumping into the unknown is part of the creative process. Remember: you're a writer — a creative person. Give your Control Freak a pat on the head and ask him to sit down. Then keep moving your fingers on the keyboard. (You can tell your Control Freak to sit down next to his cousin, the Inner Critic.)
Just Keep Writing — When you're not sure what's next and you want to jump up and clean the litter box, stop. Take a few deep breaths. No matter what comes out, no matter if you think it's rubbish, just keep writing. (Remind your Inner Critic: it's still quiet time.)

Use Your AWAI Resources — If you're just starting in your freelance writing career and don't have a lot of assignments yet, you are going to have to find ways to impose some writing deadlines on yourself. As a Circle of Success member, I'm blessed with access to the vast catalog of AWAI products — a tremendous resource for overcoming the Control Freak.

My challenge to you: today, open a program, find an assignment, and write. If you were at Bootcamp or Virtual Bootcamp, grab one of the ongoing Job Fair Spec Assignments and give it a whirl. If you're lucky, you'll feel that uncomfortable distraction floating up, and you can begin to explore the Golden Copywriting Moment. Or try one of the Write Now! Persuasive Writing Prompts; it's a new resource available to everyone.

Channel Your Inner Zen Master — Remember, this takes practice. When the desire to get away comes over you, don't give in. It's going to pull with all its might, but that's what you want. That's where you're going to find your gold. Ride it, and notice what comes up. You'll definitely learn something about yourself. And you just might hit some copywriting gold.
So stay with it, in all its discomfort. If you're like me, you'll come to love those moments, because you'll learn to trust them — and yourself.
You'll learn that when you let go of control, little golden nuggets start popping up in your copy. Ideas start materializing. Suddenly, you have a great approach … a headline that works … A lead you can make something of.
But most of all, you have confidence in the process. And confidence is a big piece of a great freelance writing career.
Just keep writing!
Editor's Note: Colette Rice is an AWAI-trained copywriter in Fair Oaks, California. Her website is Evolve Marketing Solutions.

The Professional Writers' Alliance
At last, a professional organization that caters to the needs of direct-response industry writers. Find out how membership can change the course of your career. Learn More »

Published: March 10, 2017