Landing a Copywriting Job After Wowing a Client with a Spec

One Spec Assignment Turns into the Copywriting Job Opportunity of a Lifetime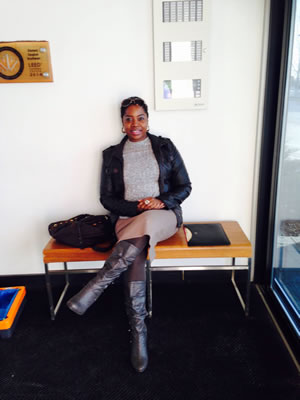 Nada Poyser
A five-figure annual salary, the ability to work from home, and regular travel to Europe and Africa.
Nada Poyser has earned her dream copywriting job and couldn't be happier. She'll be working for the African Institute for Mathematical Sciences.
"I will be the global remote special projects coordinator, which means I'll do copywriting like web copy, reports, grant proposals, company profiles, and more. I will also work with the director of communications to proofread and edit the company documents, as well as manage marketing events and various back of office projects. I am also administrator to the president and CEO to build his personal brand," says Nada.

"The job entails a bit of travel throughout Europe and Africa as there are global centers in those locations. The position I was asked to create will require visiting the various sites and attending the forums to be able to capture the essence of the company."
Prior to this new position, Nada's freelance clients were mostly graduate or undergraduate students applying for admission into schools who needed personal statements or statements of purpose for their application. So how did she land this new copywriting job? A referral from a grateful past client. She helped him with a resume and other documents — he was thrilled with her work — and that led to an introduction with her now-employer … and the chance to submit a spec assignment. This is a great example of how important it is to use referrals from satisfied clients to find new copywriting jobs.
"I offered to do a report on spec and also sent a copy of a business plan I had done and she asked to meet with me. After meeting with her, I met with the president and CEO, who wanted some work done asap for his nomination for an honorary doctorate, so I completed those and got hired."
As Nada gears up to take on this new copywriting job, she reflects back on her journey.
"It is surreal to go from wanting to quit last September to the series of events that have transpired since I changed my intentions. I had written in my journal that I wanted to make $60k by my 18th month in business. Next, I would aim for six figures to be done by year three, but nothing had been happening and nine months had passed. I was frustrated by the process. I had also done a lot of spec work and was building quite the portfolio but none of the profit," says Nada.

"I am still amazed at how fast things can turn around and your goals can come tumbling at you. I now see that the last few months were preparing me for the opportunities to come my way."

The Professional Writers' Alliance
At last, a professional organization that caters to the needs of direct-response industry writers. Find out how membership can change the course of your career. Learn More »

Published: March 7, 2017