March Issue: If you build it,
THIS happens …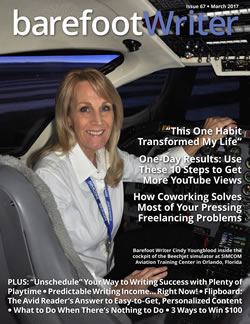 Ask a dozen six-figure writers how they got to where they are, and you'll get a dozen different answers.
But there's always one underlying theme: Deep Work.
I'm not talking about hard work, or even a lot of work. I'm talking about the habits and actions that transform your life. The things that push you out of your humble reality and into a lifestyle where you control EVERYTHING — from the time you spend writing, to where you spend your days, to how much you earn.
We've focused our March issue around this question of transformation and how to build a sustainable writing career from it.
I think you'll love what we've uncovered. It includes:
How to amplify your earning power with a writing skill you already know and use
Why "mandatory fun time" by way of the unschedule could be the answer to your future success
What will move your business forward when it appears there's nothing for you to do
How the little-known concept of coworking could open the door to a more productive and enjoyable career
And so much more!
We also had the extreme privilege of interviewing Jeff Bullas, power blogger and social media icon. His advice on "picking yourself" could give you the momentum you need to hit the ground running as you ramp up your writing career.
Click here now to read your March issue of Barefoot Writer.
When you're done reading the March issue, we'd like you think about becoming a member of our Barefoot Writer Club. Here's what you get if you do:
Access to 12-months of Barefoot Writer magazine, plus unlimited access to all back issues (over 2,700 pages of content designed to help you write better, faster, and for more profit!).
Bonus resources that show you profitable opportunities in writing, like The $500 Email Secret and The Lazy Writer's Path to a Six-Figure Income.
Admittance to the Barefoot Writer Private Facebook Group. Log on to see other writers actively engaged in growing their businesses, sharing advice, and answering the burning questions that might be holding you back from the lifestyle and dream career you deserve.
Membership into the Barefoot Writer Club is literally the quickest route I know to life as a paid writer: Join the Barefoot Writer's Club today.

The Professional Writers' Alliance
At last, a professional organization that caters to the needs of direct-response industry writers. Find out how membership can change the course of your career. Learn More »

Published: March 3, 2017