3 Easy Conversations that Land You Copywriting Clients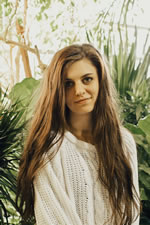 Logan Goodrich
Whether it's a phone call, an email, or a meeting face-to-face, we know that no copywriting client is ever found without some sort of communication.
Agreed?
Then the best way to start finding and landing your first clients is through the art of conversation.
Sounds simple enough, but self-promotion can often feel insincere or a bit scary. You might be thinking …
But won't asking for work make me sound desperate, or greedy? Can I pitch myself without feeling like a greasy salesperson?
If you've ever had these thoughts — as I have — then let me show you three easy, natural conversations you can initiate today to start landing clients.
Natural Conversation #1: Start with people you know …
One of the simplest ways to spread the word about your copywriting career is by sharing the news with friends and family online.
Do you have a Facebook, Instagram, or Twitter account? What about LinkedIn? Make sure your business title (for instance, Freelance Web Copywriter) is clearly stated on all social platforms.
You can post on those sites about your writing, along with website links or contact information. The trick to sharing about yourself is never make it completely about you. Create a post that's worthy of people's time, and make commenting seem fun and easy.
Sample post:
Calling all pet owners!

Some of you know I'm a freelance writer who specializes in pet care websites. I love finding creative ways to learn about my industry — will you help me?

Share below what you look for in pet care services, and why. Make sure to add a picture of your pet (so we can all enjoy the cuteness!) along with your answer. Thanks!
Be conscious of your personal voice when drafting your post. For example, if the word "cuteness" isn't in your vocabulary, don't use it.
And remember, if your friends and family don't know you're a copywriter, chances are nobody else knows.
Natural Conversation #2: Rekindle old relationships …
Depending on your previous work experience, you can reach out to past business associates through email or phone. Even if they aren't in the market for a copywriter, they might know someone who is.
Sample email:
Hi John,

How are you? I'm reaching out to let you know about a recent career change I made.

I am now certified as a web copywriter, specializing in the health industry. I'm wondering if you know anyone in this industry who uses freelance writers for website pages, articles, or emails?

If so, would you mind introducing me? I'd really appreciate it.

And if not, I completely understand. I hope to hear from you soon either way. Thank you in advance!
Now it's your turn.
Write a list of individuals you think it's appropriate to contact. And be sure to personalize every email you send! It makes a difference.
Natural Conversation #3: Meet new people …
You can also discover new ways to network if you feel your relationship pool has run a little dry. Instead of working at home every day, try going to a coffee shop or a place where other businesspeople gather.
Sample conversation:
(A natural icebreaker can start the conversation.) Hey, you like chai lattes too? I get one every time I come here.

(Ask some discovery questions.) Are you from around here? What industry do you work in?

(In the end, invite to act.) It's been great talking to you. Here's my card in case you or someone you know would like to collaborate on a writing project.
Whether a stranger ever becomes a client of your copywriting business, treat him/her like a real person and not a possible paycheck.
And if talking to strangers makes you a little nervous — as it does for me — then remember just be yourself. Keep it causal. And ask great questions. You might discover an opportunity literally sitting right beside you.
The take-home message …
Don't underestimate the power of simple conversations.
Also keep in mind that it could take weeks — or even months — for the first conversation to turn into a paid writing project. So don't give up too soon. Stay in touch and take care of these relationships.
Now go start a conversation!

The Digital Copywriter's Handbook
Learn how to become an in-demand online copywriter for companies big and small. Online copywriting expert Nick Usborne shows you how to write web copy that converts. Learn More »

Published: April 24, 2017