3 Reasons Why I'd Rather Be Starting My Career as an Online Copywriter Right Now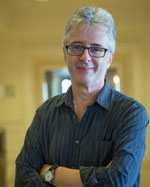 Nick Usborne
When people hear I started out as an online copywriter way back in late 1997, sometimes they sigh and tell me how jealous they feel.
After all, I was one of the very first in this field.
Back then, I could probably count the number of freelance online copywriters on the fingers of one hand.
Crazy times.
As people are quick to point out. "Wow, it must have been incredible to have the entire market to yourself. No competition! Amazing!"
That's true. Competition from other online copywriters wasn't a problem.
And yes, that has changed completely today. There are definitely a lot more people out there claiming to be online copywriters. (Whether they have the training and skills to support that claim is a whole different matter.)
Anyway … what I really want to address here is why, in spite of my "no-competition" advantage back in 1997, I would actually prefer to get started today.
Yep … I really said that.
I think it would be easier to establish myself as a freelance online copywriter today, in spite of the increased competition.
Here are 3 reasons why …
#1. I wouldn't have to spend over 50% of my time persuading prospective clients that they actually NEEDED an online copywriter.
Remember … there was no established demand for online copywriters in the late 1990s. Many companies didn't even know they needed a website. And when they had created a website, they didn't realize what a horrible job they had done the first time around.
This meant I had to invest huge amounts of my time — unbillable time — educating prospective clients and persuading them of the benefits of hiring a freelance online copywriter.
Remember, this was new to them. They had no clue.
Nor did they have any idea how to value my work. So I had to educate them on my value too, from the ground up.
Today, I wouldn't have to waste all those unbillable hours.
Today, companies already get the value of quality online copy and content. And they know they need to pay a decent fee for good work.
#2. There are many more online writing opportunities with a single client today.
In the 1990s, companies would hire me to write their websites. Just pages for their sites. I would write a few emails for some of them too.
But that was about it.
Remember, those were different times. Websites were being created, but there was very little in the way of "online marketing" as we understand it today.
There wasn't much online commerce. Most companies just had static, informational websites.
No marketing campaigns. No landing pages. Very few subscription pages. No PPC ads. No social media advertising. Very few e-newsletters. Almost zero web content creation. (Blogs hadn't been invented yet!)
So … first I had to invest all that unbillable time to secure a client in the first place. And then, once I had done that first website writing project, that was very often the end of it. They had nothing else they needed me to work on!
Which meant I had to get back on the treadmill, finding new prospects, educating them … and so on.
Today, once you have completed a first project with a client, there are many, many ways you can reach out and turn that first gig into another one, and another, and another.
In other words, the lifetime value of a decent client today is way, way higher than it was when I was starting out.
This is HUGE.
Get a client. Do a good job on that first project. And then step up the relationship by taking on more and more of their online copywriting projects.
#3. It's way easier to create a "sticky" relationship than it was in the 1990s.
This reason is an extension of the first two.
Remember, my early clients barely understood why they needed my help in the first place.
Then they simply asked me to write their websites. Or maybe improve some of the pages they already had.
And when I was done, I was done. It was goodbye.
There was nothing "sticky" about the relationship. No reason for them to pause before waving goodbye to me.
Today, the opportunity is very different.
If I do a great job with their ads, sales emails, and sales page, they'll think twice before letting me go. If I can drive sales, they'll keep on giving me more work.
If I can write web content that attracts new prospects, engages readers deeply, builds trust, and ultimately leads to more buyers … again, they'll keep giving me work.
If I can write social media updates and ads that drive qualified prospects to sales pages … same thing.
Put simply, there are a LOT more ways for me to make myself "sticky" and close to indispensable with my clients today.
Wrapping it up …
Sure, there's something almost romantic about being one of the first online copywriters on the planet.
It's something to talk about. I have some great stories.
But was it easier for me than it would be for you, right now?
I don't think so.
I think it's way easier today.
Which reminds me of one other key difference between then and now.
Back then, there was NO training available for online copywriters. I had to learn on my own, one step at a time.
Fortunately, that's no longer the case.
Today, you can kick-start your career as an online copywriter, and separate yourself from 90% of the competition, simply by taking the right, in-depth training.
So … by all means corner me one day and ask me to share some of my 1990s war stories.
But don't tell me I had it easier than you do today. Because I didn't.

The Digital Copywriter's Handbook
Learn how to become an in-demand online copywriter for companies big and small. Online copywriting expert Nick Usborne shows you how to write web copy that converts. Learn More »

Published: April 26, 2017