3 Stages to at Least DOUBLING Your Writing Income with Every Client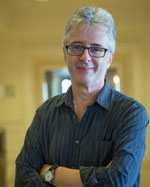 Nick Usborne
Yesterday, I talked about some of the ways in which you can make yourself more valuable and "sticky" as a freelance online writer and copywriter.
I talked about how different things are today compared to when I got started.
Today, I want to dig a little deeper and show you a few ways in which you can literally double your writing income from every client you work with.
And believe me … doubling your income from an EXISTING client is a whole lot easier than doubling your income by finding and then taking on twice as many clients.
Let's walk through how you're going to do this.
Stage One — Put your best foot forward.
When you are prospecting for a new client, you want to put your best foot forward.
This means creating the perfect combination of what you do really well, and what the client wants really badly … right now.
Let's say you're particularly good at writing web content. You do a great job of writing blog posts that hook readers, engage them deeply, and keep them coming back for more.
And right now, there are thousands of companies out there that desperately need quality content.
Find a client, write great content, and you'll quickly earn their respect, gratitude, and trust.
Stage Two — Leverage that success and trust into a RELATED gig.
For most companies, quality content is the engine that drives their social media activity. Each time they create a new page of content, they push it out through their Facebook, Twitter, and LinkedIn accounts … and more.
So now you take that small, second step, and say to your client …
"Hey, as your content writer, I'm really getting a feel for what your readers want, and what they want to share with others. In addition to writing your content, why don't you give me a try writing your social media updates too?"
Put it that way and it makes perfect sense.
On top of which, they're already big fans of your work.
If the client says yes … and they often will … you have the opportunity to double your income. Because you're now writing both their content and their social media.
The same two-step process can work with several other combinations of skills.
Take your first step writing sales letters for a client, and then double up by offering to write their PPC ads and social media advertising.
Start out writing their emails and then double your income by suggesting you take on their e-newsletters as well.
These "double-your-money" combos work best when they are related in some way … like writing sales pages and sales ads, email and e-newsletters, and so on.
And although I have mentioned just three of these combos, there are many others you can work with.
Stage Three — Use this deeper relationship to MORE than double your value and your fees.
I mentioned earlier that it's way easier to double your money by doing twice the amount of work for an existing client.
Getting more work by looking for new clients is a lot more effort. And once you've landed another client, that's a whole new relationship you have to work on and maintain.
You'll do much better to work hard on building strong and deep relationships with a smaller numbers of clients.
And the deeper each relationship becomes, the greater your value and the higher the fees you can charge.
Let me explain …
Back when you were just writing content for that client in Stage One, they respected you, but saw you simply as a valued outside supplier.
But once you started doing both their content and social media — Stage Two — the dynamics of the relationship changed.
Now you are taking care of a larger chunk of their online marketing activities. Now they depend on you more.
Now you're no longer just a "writer for hire." You're an important, high-value member of their marketing team.
Now you're at Stage Three.
And that means you can charge more. You can renegotiate and increase all your fees in line with increased level of value you have created for yourself in the eyes of that client.
Summing up …
Stage One is about making decent money by offering a client your writing or copywriting services.
Stage Two is when you add a second service and essentially double your writing income from that one client.
Stage Three is when the perception of your value to that client has risen to the point where they will be happy to pay you more for everything you do.
It's not a complicated process.
Many online writers and copywriters have done if before.
And now it's your turn!

The Digital Copywriter's Handbook
Learn how to become an in-demand online copywriter for companies big and small. Online copywriting expert Nick Usborne shows you how to write web copy that converts. Learn More »

Published: April 27, 2017