Are These Three Myths Stopping You from Building Your Freelance Website?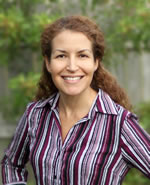 Li Vasquez-Noone
One of the first things I did as a new copywriter was start thinking about my freelance website. After all, I was going to have clients soon. Lots of clients. I needed a business website!
Six months later, I published my freelance website.
Six months!
Why so long?
It wasn't because I was working on my site for six months. Oh, no. I procrastinated for six months.
You see, I thought I had some good reasons to delay publishing my website. But they weren't reasons.
They were excuses.
They were things I told myself to justify my fears and keep myself from moving forward.
Once I realized I was limiting myself, I finally got started on my site.
Here are the limiting beliefs that held me back from building my freelance website. Do any of these myths sound familiar to you?
1. I'm a new copywriter and I don't need a website until I have a few clients already.
This one seems to make sense at first glance. But I assure you, it's simply not true. New copywriters need a professional freelance website, especially when first starting out. Even before getting any clients.
That's because a professional writer's website will give you a professional image. It's like wearing a suit to a job interview. Dressing the part (having a website) shows the interviewer (your prospect) that you're able to handle the job.
Can you do the same thing with social media accounts? Well, no.
You can have a LinkedIn profile, a Google+ page, a Facebook business page, a Twitter account, and so on. But these sites are all controlled by someone else. These social media platforms can be changed or even removed at any time.
With your own freelance website, you'll be in control of your professional web presence.
2. I can't build a website myself, it's too technical (and too expensive).
I worked in web design about 20 years ago. Back then, we coded a lot of pages by hand. It was a long process, and produced a basic looking page of text.
Today, I look at web pages and think, there's no way I could write that code!
And that's okay. Thanks to WordPress, I don't have to.
WordPress is a web software that's free to download and use. It's easy to install, widely used, and available to everyone. It has thousands of templates (called themes) you can choose from. There are free options or you can buy an easy-to-use, professional-looking theme, often for just a few dollars.
You will also need a domain, and a web host. This will cost some money up front, and must be renewed yearly. But it's not very expensive. The cost can vary depending on who hosts your site. I pay about $110 a year, or about $9 a month.
3. I can't publish my website until it's perfect.
This was my biggest limiting belief, and the hardest one to overcome. I thought I couldn't possibly let my website go "live" on the Internet until it was perfect. What if someone sees it and it's not perfect? How horrible would that be?
Well, after freelancing for several years, I've learned a couple of important things. The first is: always do the best work you can. And the second is: when you must choose, "done" is better than perfect.
What if you need to change something on your website? New samples, new niche, new profile photo? No problem. The fact is, your freelance website is a work in progress. It will evolve as your career does. You can learn how to add to it, change copy, and update your pages. Set aside a few minutes each month to look over your site and make changes, and you'll be set.
It's your turn.
Are you experiencing any of these limiting beliefs? It's time to let them go! Don't let them keep you from building your freelance website.
Take it from someone who's been there. Once you get your site written — and published — you'll be on your way to achieving the writer's life.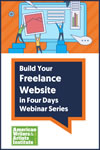 Build Your Freelance Website in Four Days
No matter what niche you're in, if you're a freelancer, you must have a website that showcases what you do. You can launch your own professional website in just 4 days. Experts show you every step. Learn More »

Published: April 10, 2017