Last Chance: Build Your Website in Four Days and Save on Live Training!

I'm ready to guide you step-by-step through building your professional freelance website …
Over the course of four days I'll meet you exactly where you are, right now.
I'll assume you know NOTHING about web design or anything "technical." And together we'll work on:
Choosing a strong domain name and making other key decisions for your website.
Writing and creating effective new content that demonstrates your value and expertise.
Pulling together samples and testimonials even if you have zero experience.
Customizing your website and making it unique to your brand.
Flipping the switch and take your website "live" … and ensuring potential clients are able to find it.
I'll even teach you how to update your website any time you like in the future …
Get all of your questions answered along the way (as well as give you access to our member-only group so you can ask questions in the future!) …
AND give you a professional, constructive critique, so you know your website is going to do its job, right from the get-go.
But, this deal is only available until tonight, April11th at midnight ET.
Click here to register now! (You'll even save $100.)
Or, get all the details about Build Your Freelance Website here.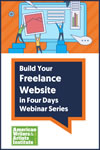 Build Your Freelance Website in Four Days
No matter what niche you're in, if you're a freelancer, you must have a website that showcases what you do. You can launch your own professional website in just 4 days. Experts show you every step. Learn More »

Published: April 11, 2017