April Issue: Millionaire Blogger Jon Morrow in The House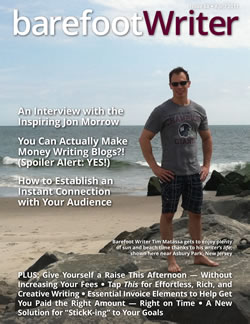 Ready for a big kick in the pants when it comes to following through on your writing goals?
Enter Jon Morrow.
Not only are we humbled to feature him in an interview … but we're blown away by everything he brings to the table. Inspiration? Check. Tried-and-true writing tips? Check. Business-altering advice? Once again — check.
Add to that our focus on why tapping your intuition could make a massive difference in your writing success, and you've got a Barefoot Writer issue you won't want to miss.
Other mind-opening content we have for you this month includes:
A proven way to "StickK" to your goals
Yes you can actually make money writing blogs!
Essential invoice elements to make sure you get paid
How to give yourself a raise this afternoon — without increasing your fees
Where to turn for effortless, rich, and creative writing
What vice could you never give up?
Click here now to read your April issue of Barefoot Writer.
By the way … have you redeemed your special invitation to join the Barefoot Writer Club? Because the clock is ticking … and I can pretty much guarantee it'll be the best decision you've ever made for your writing career.
Here's why …
The Barefoot Writer Club offers you a community of support like no other. Because the reality is, plenty of folks out there want to make a living writing.
But too many see the writing world as a place of competition and rivalry.
You know what? It's NOT.
We know from experience — after watching hundreds of writers launch successful paid writing careers — that the recipe for success is knowledge + support.
Without support from people who understand your goals and your drive to write, it's too easy to fail.
As a member of The Barefoot Writer Club, that kind of thing doesn't happen. You'll be part of a genuinely supportive group of people who give free advice and critiques, who applaud your successes, and help you move past your hurdles.
Plus, there are other Club bonuses, like the deep monthly discounts on writing programs designed to fit your goals. You'll also get our value-packed writing opportunity reports, including The $500 Email Secret, Get Paid to Surf the Web, The Secret of the 1-Hour Work Week, and The Lazy Writer's Path to a Six-Figure Income.
Each bonus has been specifically designed to give Club Members the best information possible for getting a successful writer's life up and moving at lightning speed.
This is how writing dreams become reality … click here to learn more.

The Professional Writers' Alliance
At last, a professional organization that caters to the needs of direct-response industry writers. Find out how membership can change the course of your career. Learn More »

Published: April 7, 2017